@AquanautBruce
Bruce Edward Cantrell was born in Oliver Springs, Tenn. and raised in Roane County. He graduated from Harriman High School in 1969 and at age 17, enlisted in the United States Navy where he served as a combat veteran in Vietnam. While in the Navy, he crossed the Pacific Ocean four times. During these Pacific crossings, Cantrell developed a passion for the ocean that has remained with him throughout his life.
Cantrell was honorably discharged from the Navy in 1973. He attended Roane State, graduating with honors in 1975, and transferred to Tennessee Technological University. Cantrell took his first scuba class at Tennessee Tech, became a certified scuba diver and studied marine biology at the Gulf Coast Research Laboratory in Ocean Springs, Miss. He earned a Bachelor of Science in biology in 1977.
Cantrell then served in the Army for 15 years. While in the military, he attended graduate school at the American University in Washington D.C. His interest in the marine world had not diminished, and as a graduate student, he participated in a National Oceanic and Atmospheric Administration's (NOAA) research program, studying ocean dumping and marine pollution. He received his Master of Science in biology in 1985. Cantrell left military service in June 1992 with the rank of major and was offered a faculty position in the environmental science program at Roane State
In 1994, Cantrell took time out from his academic career to run for public office and was elected State Representative from the 32nd legislative district. After leaving the Tennessee General Assembly, Cantrell returned to teaching and began to focus on promoting environmental awareness through the education of young adults. Having grown up in an economically depressed area without any exposure to the ocean prior to his time in the navy, he became passionate about ensuring that students are aware of the possibilities available to them in the field of marine science and the positive difference they can make on the ocean environment. He utilizes his current position as an associate professor of biology and interim dean of the Mathematics and Sciences Division to encourage students to explore activities that protect our ocean resources.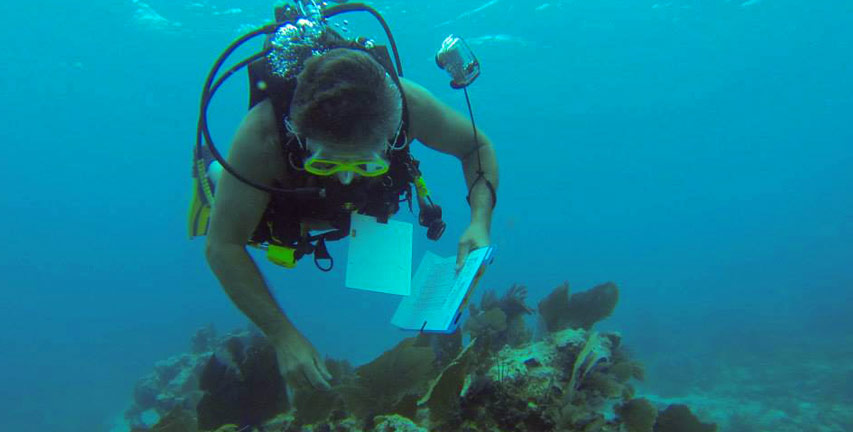 In 2002, he participated in the MarineLab Teacher Education Workshop, and began taking his own classes to MarineLab annually in 2005. He has now logged more than 200 hours in the Jules' underwater habitat and laboratory, including six 24-hour missions. Last year, he took students to both Costa Rica and Honduras to study other marine environments and to learn about shark conservation. He also serves as a volunteer diver at the Tennessee Aquarium in Chattanooga, where he has currently logged more than 600 volunteer hours.
Cantrell is a certified divemaster and a certified master scuba diver. He holds multiple specialty certifications including shark conservation diver, aquanaut and manned underwater laboratory specialist. He also holds the Reef Check Eco Diver certification. In 2005, he facilitated the offering of scuba certification classes at Roane State and works with the primary instructor as the divemaster for every class. Cantrell feels strongly about the importance of marine science, oceanic exploration, research involving underwater habitation, and education of the public, particularly young people, on the important role that they can have in the preservation and management of our ocean resources.