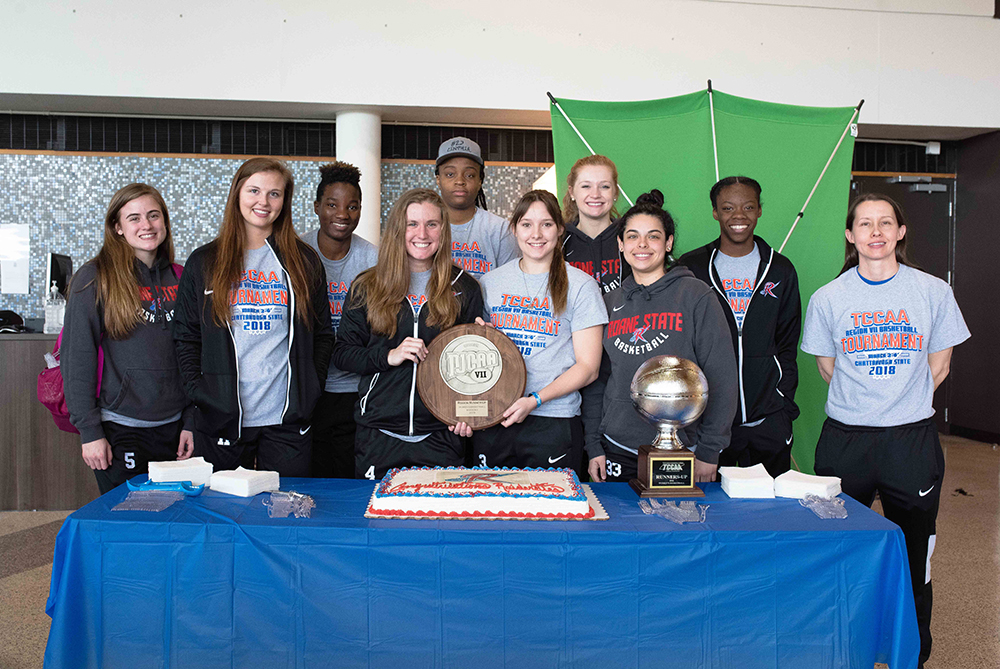 The Roane State women's basketball team made Cinderella run to the championship game of last month's conference tournament. Front row from left are Amberlee Zeller, Rachel Layne, Autumn Monkhouse and Ariana Davidson. Back row from left are Courtney Ellison, Leonie Owona, Cinthia Mbakop Ngassam, Chattin Atchley, Adalys Brown and coach Monica Boles. Not pictured are Monae Mayes, Amber Appiah-Kubi, Lindsey Mason and Katie Starnes.
April 6, 2018
By Bob Fowler
Roane State staff writer
Members of Roane State women's basketball coach Monica Boles' squad were honored for their runner-up finish in the annual TCCAA and Region VII tournament last month.
The Lady Raiders came together at "just the right time," Boles said, and defeated three other squads in the tourney, held in Chattanooga, only to lose the championship game in a heartbreaking nail-biter.
Roane State lost by three points in triple overtime to Walters State's Lady Senators, a team that beat the Lady Raiders twice in regular season play and was undefeated in conference competition.
"I was so proud to watch our team come together at just the right time," said Boles, wrapping up her 10th season as head coach.
"It was amazing how they took on the higher-seeded teams," Roane State Athletic Director Randy Nesbit told the crowd, gathered in the student lounge on the college's Roane County campus for the celebration.
"They made an incredible run," said Teresa Duncan, Roane State's vice president of workforce development and student affairs. "We had more fans there than anybody the whole week," she said of Lady Raiders supporters.
The seventh-seeded Lady Raiders first beat 10th-seeded Jackson State, then easily beat Southwest Tennessee – a team that defeated Roane State twice in regular season play.
The Lady Raiders outlasted tournament host squad Chattanooga State by one point in overtime to advance to the championship.
Boles said her team's regular season conference record of 7-11 was "wiped clean" by tournament play.
"It was so rewarding to watch our team peak when it mattered most," she said. "We never gave up. We just had a lot of will, and various people making timely shots."
The TCCAA and Region VII Tournament includes all of Tennessee's 10 community colleges that have women's basketball squads.​