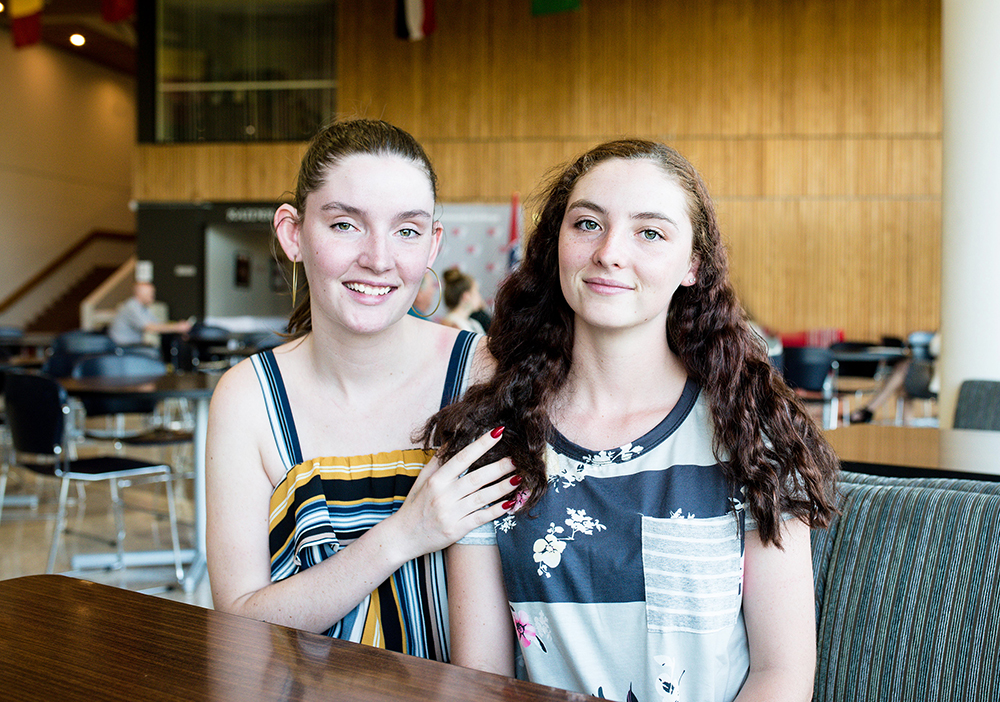 Rebecca and Jessica Michaud
July 10, 2018
By Bob Fowler
Roane State staff writer
These twins followed in their older brother's footsteps, and they like the direction he took.
Jessica and Rebecca Michaud completed Roane State's innovative Middle College program and received associate degrees from Roane State in May, the same month they graduated from Midway High School in Roane County.
The twins, 18, along with older sibling Joey Michaud, are the children of Ed and Susan Michaud. Through Roane State's Middle College program, they went to Roane State's Roane County campus on weekday mornings. Jessica had a co-op work program in the afternoons, helping at a nearby horse training and breeding facility, while Rebecca returned to high school.
Joey Michaud was in the inaugural Middle College class and is now majoring in chemical engineering at University of Tennessee-Knoxville. "He said he liked it (Middle College)," Rebecca recalled. "He said it gave him more freedom and a good intellectual challenge."
"Overall, I've liked it," Rebecca said of the program.
"It was nice to be with people (in Middle College) who also want a challenge," Jessica said.
Rebecca said Roane State's chemistry course was the most challenging academically as a Middle College student. She praised Steve Ward, the chemistry professor, for his expertise. "He's a really good teacher, but it (chemistry) is definitely difficult."
Overall, Rebecca said, "the hardest part (about Middle College) is learning that you have to study."
To learn more about Middle College, visit roanestate.edu/middlecollege or contact Middle College coordinator David Lane, (865) 354-3000 ext. 4223 or lanedr@roanestate.edu.
© Roane State Community College
Roane State Community College is a TBR and AA/EEO employer and does not discriminate against students, employees, or applicants for admission or employment on the basis of race, color, religion, creed, national origin, sex, sexual orientation, gender identity/expression, disability, age, status as a protected veteran, genetic information, or any other legally protected class with respect to all employment, programs and activities sponsored by Roane State. View full non-discrimination policy.