What is the date, time, and location?
Saturday, Oct. 19, 2019 at Historic Jackson Square in Oak Ridge
Chalking can begin as early as 8 a.m.
Where should I park?
A map is below. Please note the following
Intersections of Broadway at Towne and Broadway at Kentucky will be blocked. This will close the road directly across from Jackson Square to maximize safety
The map notes areas where people commonly park when the road is blocked for Jackson Square events.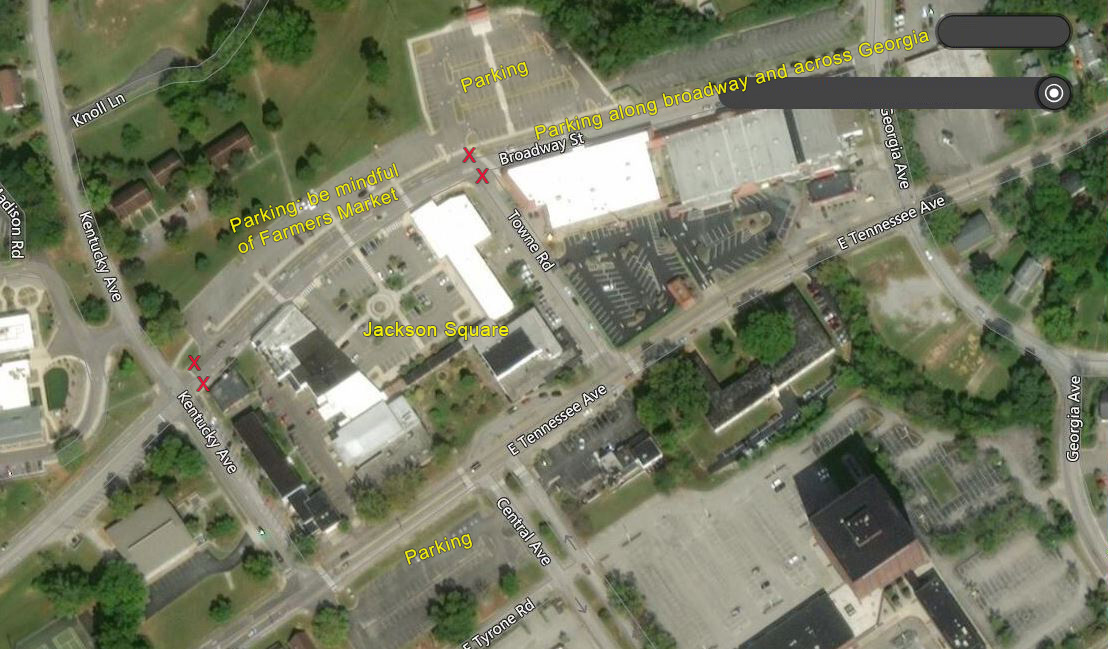 Where do I check-in?
When you arrive, please to go to the check-in table that will be set up near the Oak Ridge Playhouse.
You will receive a number and supplies. A volunteer will walk you to your square and help you properly place your number. Please note that placement of your number is critical for judging. Please do not move your number.
Artists pick their own square on a first-come, first served basis. To compete, artists must check in no later than 11 a.m. Artists who arrive after 11 a.m. are welcome to chalk but will not be entered in the competition. Artists may arrive early to pick their squares, but chalk will not be distributed until 8 a.m.
What should I bring?
You may want bring sunscreen, something soft to kneel on, and towels or wipes for your hands. Art supplies will be provided as will bottled water.
What happens if it rains?
If weather is an issue, information will be posted in the early morning on this website.
The event will be rescheduled to a later date at Roane State's Oak Ridge campus.
When will judging begin?
Judges will begin their rounds at approximately 1:30 p.m. and make final rounds at approximately 3 p.m. Artwork should be complete by 3 p.m. The awards will be given at approximately 4:30 p.m.
© Roane State Community College
Roane State Community College is a TBR and AA/EEO employer and does not discriminate against students, employees, or applicants for admission or employment on the basis of race, color, religion, creed, national origin, sex, sexual orientation, gender identity/expression, disability, age, status as a protected veteran, genetic information, or any other legally protected class with respect to all employment, programs and activities sponsored by Roane State. View full non-discrimination policy.