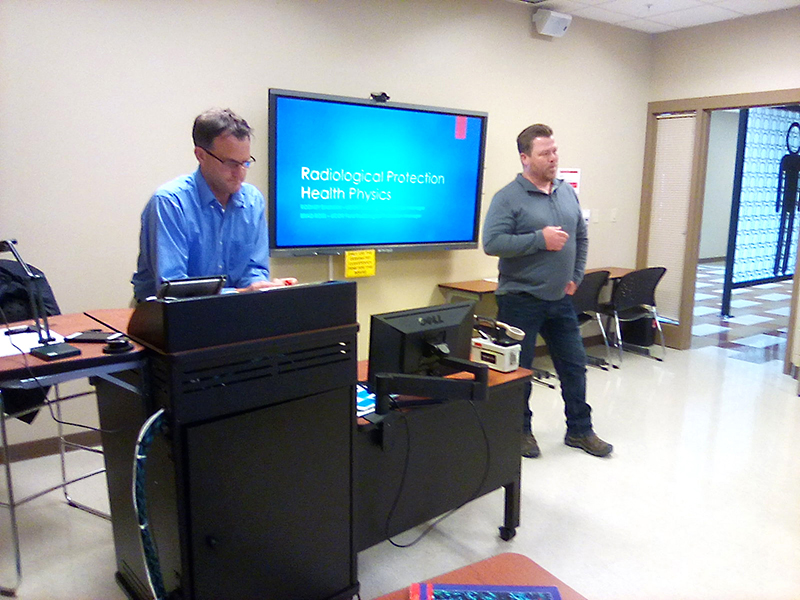 UCOR Radiological Protection Manager Rodney Bauman, left, and Roane State graduate Brad Ross, the UCOR field radiological project manager, recently spoke to the college's Environmental Health Technology class.
May 22, 2019
A Roane State graduate returned to his alma mater and spoke to students in associate professor Dan Hyder's Safety and Emergency Response class.
UCOR field radiological protection manager Brad Ross was joined by the contractor's radiological protection manager, Rodney Bauman, for the talk at Roane State's Oak Ridge campus.
"They spoke to my class about the field of health physics," Hyder said. "They discussed the risks associated with radiation, the different types of careers and working environments, the history of the field, the positives of working in health physics, and how to prepare for a career and obtain employment."
Ross is a graduate of Roane State's environmental health technology program, and he has worked more than 25 years in health physics in Oak Ridge, Hyder said.
UCOR, an AECOM-led partnership with Jacobs, is under contract with the Department of Energy (DOE) to clean up East Tennessee Technology Park, a former gaseous diffusion plant that DOE is converting into a private sector industrial park. It also performs cleanup work at other DOE Oak Ridge Reservation locations, including Oak Ridge National Laboratory and the Y-12 Nuclear Security Complex.
To learn more about Roane State's environmental health technology program, visit roanestate.edu/eht.
Remember, eligible adults can now attend Roane State tuition-free with the new Reconnect grant. Learn more at roanestate.edu/reconnect.
© Roane State Community College
Roane State Community College is a TBR and AA/EEO employer and does not discriminate against students, employees, or applicants for admission or employment on the basis of race, color, religion, creed, national origin, sex, sexual orientation, gender identity/expression, disability, age, status as a protected veteran, genetic information, or any other legally protected class with respect to all employment, programs and activities sponsored by Roane State. View full non-discrimination policy.