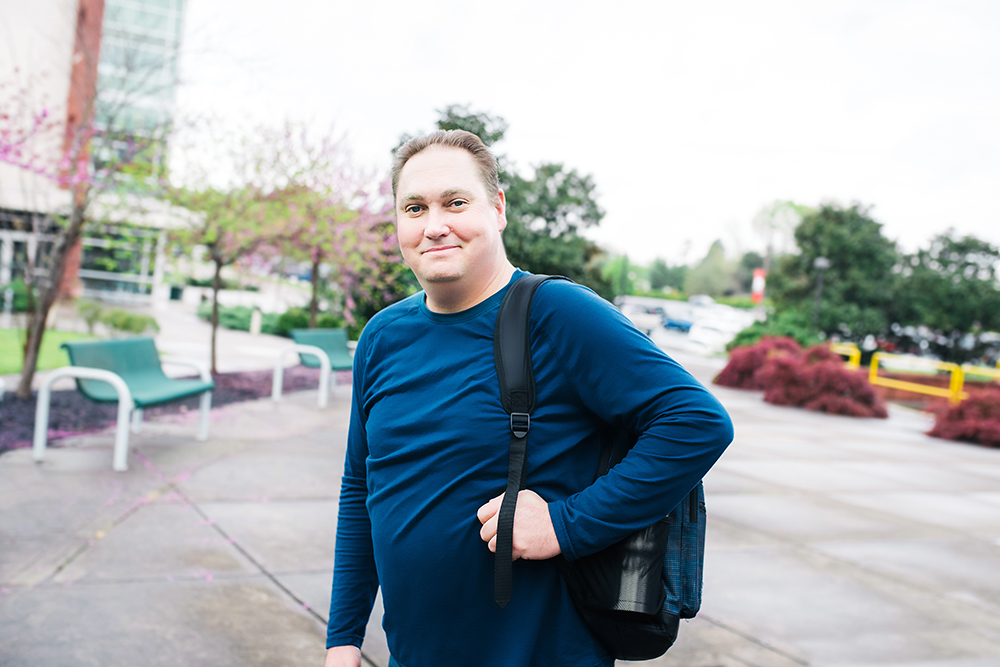 July 3, 2019
By Bob Fowler
Staff writer
Shortly after his 40th birthday, Morgan County resident Earl Davis had an epiphany.
"Looking ahead 20 years, I didn't see myself with a pitchfork in my hands doing heavy labor," the Lancing resident said. In the past, he worked at a chicken farm and as a prison guard.
So Davis, who graduated from Wartburg Central High School in 1994, started saving his money to pay for college tuition.
"Then I found out about the Reconnect program," he said. That's the state's grant program where adults can attend a community college tuition-free.
So Davis, now 43, decided to go to Roane State and study to become an elementary school teacher.
College was going to be a big change in his life, Davis said, but he was reassured at two get-acquainted events where other adults told of their college experiences. "It was nice to hear their perspective," he said.
Davis has been making the drive from Lancing to Roane State's Oak Ridge campus and taking classes for a year now. He admits being a bit uneasy at first about attending classes with 18-year-olds, but his younger classmates quickly accepted him.
Getting help at the Learning Center on the Oak Ridge campus has benefited him, Davis said, as did a remedial class in math last fall. "I didn't do so well in math back in the day," he said, recalling his high school experiences.
Davis is in the "2+2 program," where students get an associate's degree from Roane State. They then stay on the community college campus to attain a bachelor's degree in education from Tennessee Tech. Educators from Tennessee Tech teach the courses.
Davis' career goal was reinforced after he spent hours last semester observing teachers in action at Morgan County's Petros-Joyner Elementary School. "It didn't change my mind one bit," he said. "If anything, it increased my desire to become a teacher."
Davis was also able to see teachers in action in Central America. He and 13 classmates in a World Cultures and Service Learning class traveled to Costa Rica May 7-18.
"Any experience I can get, for my classroom and my future students, that's my goal," he said.
"I'm very happy to go to college," he said.
Roane State is a two-year college providing transfer programs, career-preparation programs and continuing education. Founded in 1971, the college has campuses in Crossville, Harriman, Huntsville, Jamestown, Knoxville, LaFollette, Lenoir City, Oak Ridge and Wartburg.
For more information, visit roanestate.edu or call (865) 882-4554.
Remember, eligible adults can now attend Roane State tuition-free with the new Reconnect grant. Learn more at roanestate.edu/reconnect.