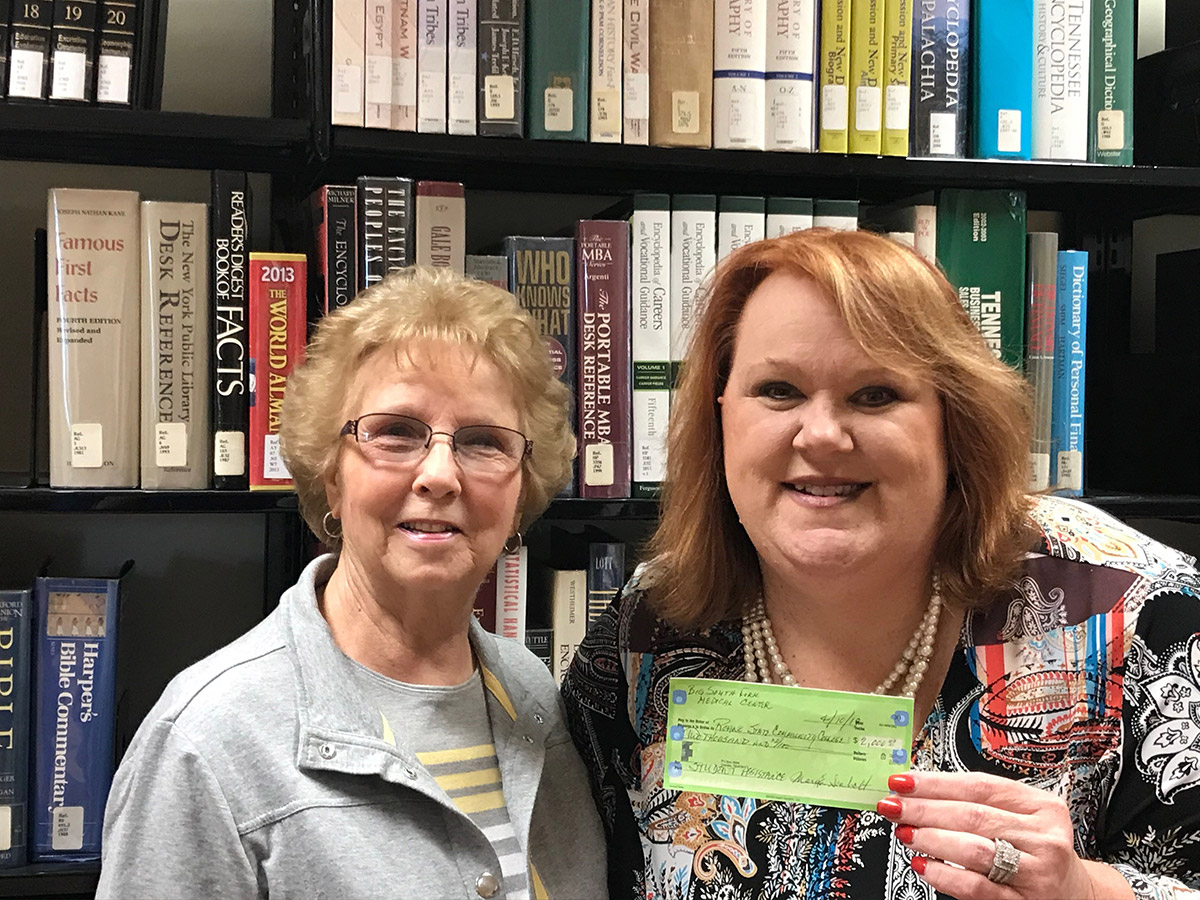 Sharon Wilson, right, director of Roane State's Scott County campus, holds a check representing a $2,000 donation to students at the campus given by volunteers at the Big South Fork Medical Center. Kay Botts, president of the volunteer organization, is at left.
July 8, 2019
By Bob Fowler
Roane State staff writer
Volunteers with the Big South Fork Medical Center have donated $2,000 to the Roane State Foundation and ask that the funds be used to help four Roane State Community College health sciences students in Scott County.
"We felt like it should be used for the community," said Kay Botts, president of the hospital's small group of volunteers. She said volunteers want to help students of Roane State's W.H. Swain Scott County Center for Higher Education.
Big South Fork Medical Center is a small hospital in Oneida that's part of the Rennova Health Company and is the successor to two other medical centers that closed.
Botts said the donations represent proceeds from a gift shop that was in a previous medical center as well as volunteers' bake sales. "This small community needs a hospital, but we've had our issues," she added.
Botts said once a new gift shop is in place, proceeds from it will be earmarked either for students attending Roane State's Scott County campus or for community needs.
Botts said additional volunteers are needed at the Big South Fork Medical Center, and those interested in helping can contact her at 1-423-663-3288.
About the Roane State Foundation
Established in 1979, the Roane State Foundation supports the college with capital projects, equipment, educational programs and scholarships. Contributions to Roane State Foundation are tax deductible to the extent allowed by law. For more information or to make a gift to support Roane State students, visit roanestate.edu/foundation, email Foundationdept@roanestate.edu, or call (865) 882-4507.
About Roane State
Roane State is a two-year college providing transfer programs, career-preparation programs and continuing education. Founded in 1971, the college has campuses in Crossville, Harriman, Huntsville, Jamestown, Knoxville, LaFollette, Lenoir City, Oak Ridge, Wartburg and Clinton.
For more information about programs at the Scott County campus, call (423) 663-3878 or visit roanestate.edu/scott.
Remember, eligible adults can now attend Roane State tuition-free with the new Tennessee Reconnect grant. Learn more at www.roanestate.edu/reconnect.