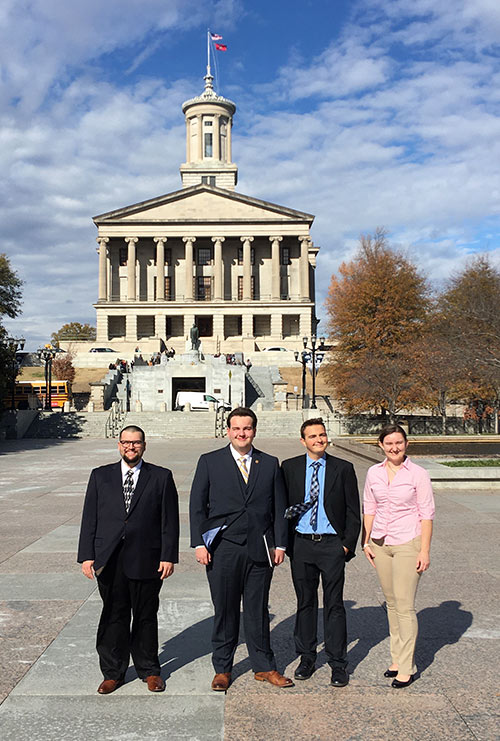 These Roane State students participated in the Tennessee Intercollegiate State Legislature. From left: Jesse Griffin, Eli Anderson, Jacob Hughett and Anna McClure.
Dec. 4, 2019
By Bob Fowler
Roane State staff writer
Two Roane State students who have already sought public office won recognition for their roles in the 50th annual Tennessee Intercollegiate State Legislature, held Nov. 21-24 in the State Capitol in Nashville.
It marks the sixth year in a row that Roane State students have been honored during the event, said John Brown, a Roane State associate professor of political science who serves as the advisor for the group. Several hundred students from 40 state colleges and universities attended, Brown said.
The Tennessee Intercollegiate State Legislature is a forum for students to exchange ideas, express their opinions and learn how government works.
Roane State student Eli Anderson, 19, is Tennessee's youngest elected official after winning a Morgan County Commission seat in 2018. He was recognized as an outstanding representative during the mock legislative session, held in the state senate and house chambers. Anderson is also president of Roane State's Student Government Association.
Jacob Hughett, 20, who lost his bid for Scott County Commission by a mere 61 votes in 2018, was named the best state senator during the November mock session. "He (Hughett) is very, very articulate," Brown said.
Also attending were Roane State students Jesse Griffin, who served as a state representative, and Anna McClure, who portrayed a gun rights lobbyist.
The contingent "was one of our better groups," Brown said, "and we've had pretty good success in years past."
The event included fictional versions of all of Tennessee's constitutional offices, from governor to secretary of state. "It's as close as you can get to a model of the state legislature," Brown said.
Roane State is a two-year college providing transfer programs, career-preparation programs and continuing education. Founded in 1971, the college has campuses in Crossville, Harriman, Huntsville, Jamestown, Knoxville, LaFollette, Lenoir City, Oak Ridge, Wartburg and Clinton. For more information, visit www.roanestate.edu or call (865) 882-4554.
Remember, eligible adults can now attend Roane State tuition-free with the new Reconnect grant. Learn more at www.roanestate.edu/reconnect.