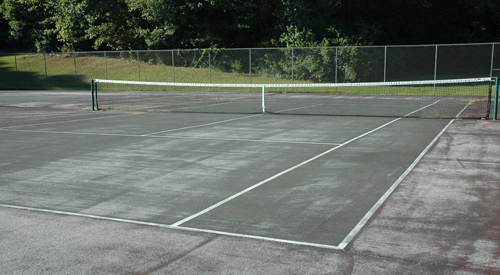 Stanley E. Keylon coached Roane County High School girls tennis players for more than 20 years, and although he retired, his passion for the sport never waned.
To continue promoting tennis in the region, Keylon donated $34,000 to the Roane State Foundation for resurfacing of the eight tennis courts at the college's main campus in Harriman. Keylon's vision is for the refurbished courts to provide a venue where more young people from the community can learn the sport.
"The main purpose is to promote tennis in the area and to encourage players to start at an early age so they can develop the skills to compete at the high school level," Keylon said. "With 8- to 10-year-olds, the main goal is for them to participate and have fun while also learning basic ground strokes."
Stanley Keylon, center, presents a donation for resurfacing of the Roane State tennis courts
to vice president Danny Gibbs, left, and athletic director Randy Nesbit.
Keylon understands that early development in tennis can lead to success in high school and help young players eventually earn college scholarships. During Keylon's tenure at Roane County High School, he coached state tournament participants Hannah Sherrod (two-time participant), Eden Sherrod (two-time participant), Sarah Rainwater (two-time participant), Murielle Fisher and Amy Smith (two-time participant).
Hannah Sherrod, Eden Sherrod and Rainwater played collegiate tennis at Maryville College, King University and Milligan College, respectively.
All of his players, he said, benefited from the valuable lessons that tennis provides.
"Tennis teaches discipline," Keylon said. "It teaches good character, competitive attitude and a sense of fair play and teamwork."
Keylon said, the courts will provide a place for youth tournaments, youth clinics and recreational use.
"Stanley's contribution will go a long way to promoting tennis in the community," Roane State athletic director Randy Nesbit said. "We greatly appreciate his generosity and his passion for the sport."
Keylon, back, and Roane County Tennis Association President Ken Broyles try out the new courts. PLAYRITE of Knoxville did the resurfacing.
© Roane State Community College
Roane State Community College is a TBR and AA/EEO employer and does not discriminate against students, employees, or applicants for admission or employment on the basis of race, color, religion, creed, national origin, sex, sexual orientation, gender identity/expression, disability, age, status as a protected veteran, genetic information, or any other legally protected class with respect to all employment, programs and activities sponsored by Roane State. View full non-discrimination policy.