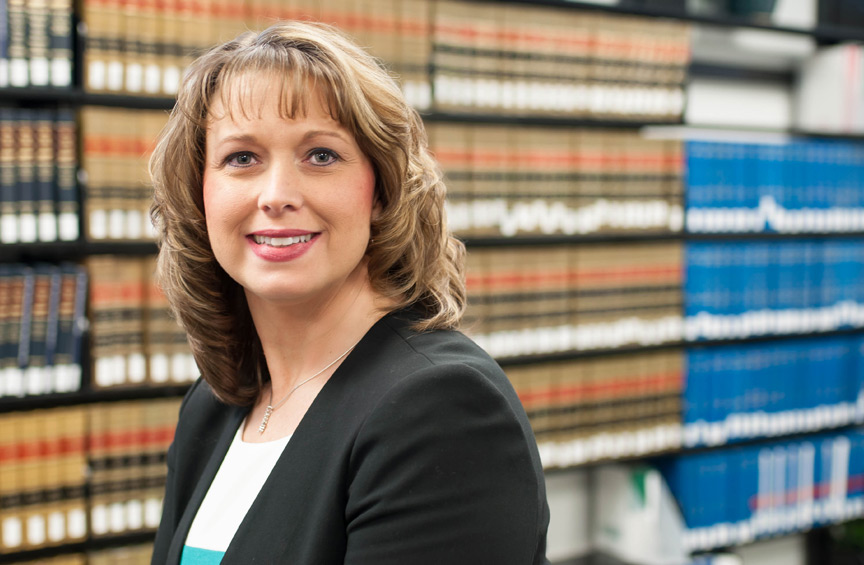 February 26, 2016
The new director of Roane State Community College's paralegal studies program understands the challenges community college students face.
She also knows that it's never too late to achieve a goal.
Tracey Williams, a Roane State alumna, started law school at age 37. A wife and mother, Williams worked full-time while spending half the week in Nashville to take night classes at Nashville School of Law. Nearly every week for four years, she drove to Nashville early in the week for class, stayed at a friend's place, worked remotely from Nashville, went to class, and then drove home at 5 a.m. on Thursdays to report to work.
"It's a struggle," Williams said of pursuing a degree while working. "But when you get to the other side of it, you will appreciate it more, and you will not take the opportunities for granted."
Williams wants to help create opportunities for people interested in law as a career. An associate attorney with Mostoller, Stulberg, Whitfield & Allen in Oak Ridge, Williams will continue to practice law while serving as director of the paralegal studies program and teaching.
"Being a paralegal can be a very exciting job," Williams said. "You can do litigation or transactional work. You can work for the local hometown attorney, a smaller firm in your local community, or a larger firm in the city. There are so many different areas you can go into. It's a job that allows you to be a self-motivated, self-guided person."
Williams started her career as a paralegal. She graduated from Roane State in 2001 with her associate of applied science in paralegal studies. She completed a bachelor's degree from Tusculum College in 2002 and earned her law degree from Nashville School of Law in 2013.
Williams succeeds Ken Yager as program director. Yager will continue to teach paralegal classes on a part-time basis.
"I am delighted that Tracey has accepted the college's offer to be director of the paralegal studies program," Yager said. "She has been a longstanding member of the program's advisory committee as well as a practicing attorney in Oak Ridge. This experience will benefit our program. On a personal note, I have enjoyed my tenure as director and appreciate the support that I received from the faculty, administration and support staff. Our program is second to none which is reflected in the very high placement percentages for our graduates. "
To learn more about Roane State's paralegal program contact Williams at (865) 354-3000 ext. 4987 or williamstv@roanestate.edu.