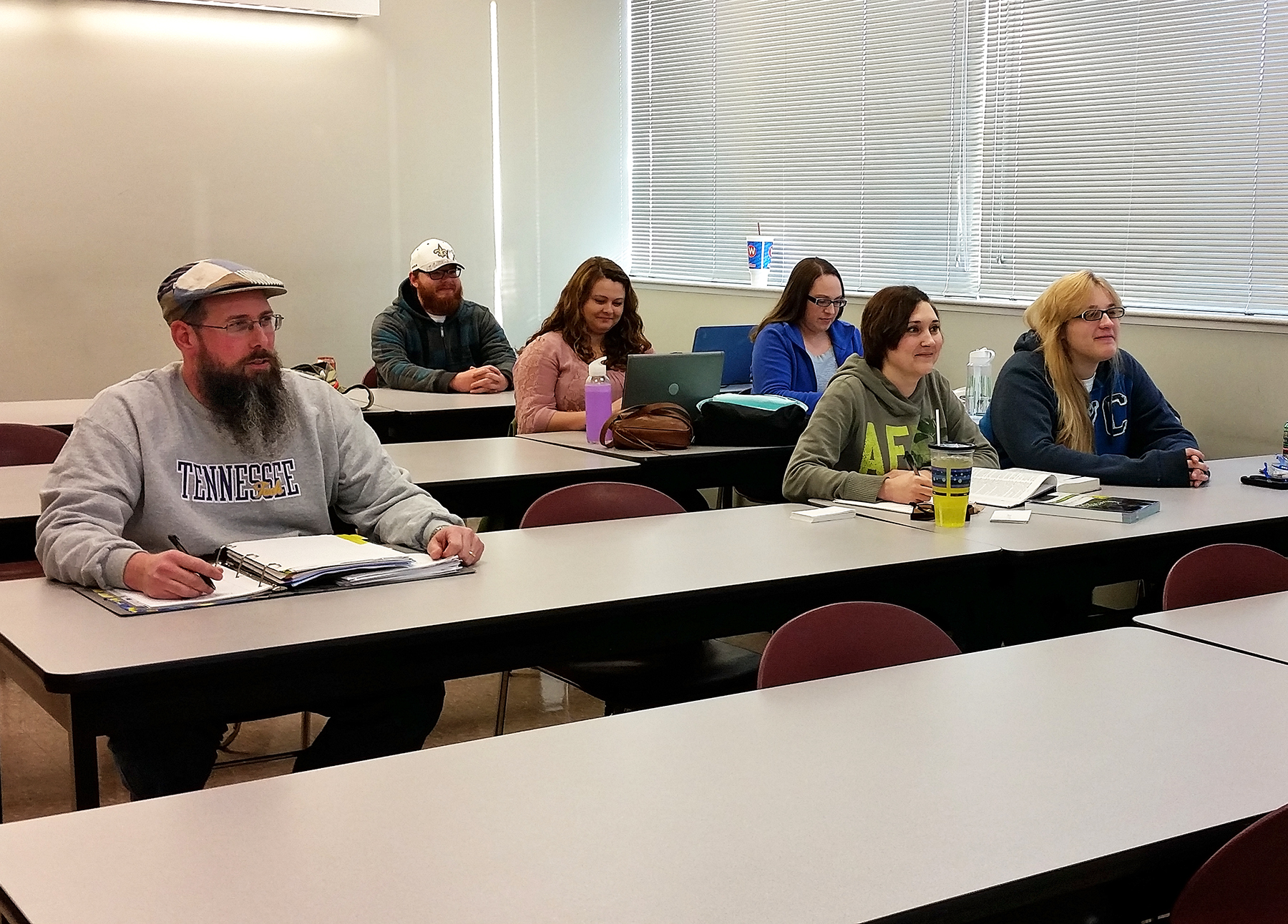 Shawn D. Van Horn, far left, listens in his Tennessee Tech class at Roane State's Oak Ridge campus. Van Horn is close to completing his bachelor's degree in interdisciplinary studies from Tennessee Tech. The Tennessee Tech classes are offered at Roane State campuses.
By Shawn D. Van Horn
Has it been a few years since you attended school? Do you find yourself fretting about a potential return to college? Is fear keeping you from taking the next step toward a better education and career outlook?
If so, perhaps the observations of a 46-year-old college student would be of some benefit to you.
Provided for your consideration is a Top 5 List of things to expect as you begin your adult college adventure.
Begin the college application process ASAP: Most prospective students imagine that the most difficult aspect of receiving an education is the education itself. This is not necessarily the case. Having been through the application and acceptance process twice for myself and once with each of my two eldest children, I can attest to the importance of starting as early as possible. Allow yourself plenty of time to collect all of the documentation required. There will inevitably be an issue with your document processing which will require you to follow-up. By applying early, you allow more margin of error and time for making corrections, etc., which can help in securing scholarships and loans.

Fill out the FAFSA (Free Application for Federal Student Aid): Education cost is at the top of most – if not all – students' lists of concerns. Our government graciously provides a means for prospective students to determine if they are eligible for educational funding. Do not assume that you are ineligible for assistance based on your income. You may be surprised and find that you are eligible for the federal Pell Grant, which could potentially pay for your entire associate degree through a local community college. When filing your FAFSA, be sure to fill the form out on the official government website at www.fafsa.ed.gov. Any other site offering to assist you with this is simply trying to make a quick dollar. The application is FREE.

Take full advantage of student resources: Colleges provide students with income opportunities, educational services, and free or reduced cost technology and software. If finances are a concern, then you may benefit from a work-study program that makes it possible for you to earn as you learn. If you find yourself struggling to find information for a written assignment – or need help improving your writing skills – be sure to visit your college's library or tutoring center. College staff and student tutors are typically available to aid you with research and writing issues. Be certain to look for your school's technology offerings. Most schools have arrangements with computer and software manufacturers allowing them to offer products at a reduced cost or sometimes even free.

Being nervous is normal: Following an extended hiatus from school, you feel a bit anxious and uncertain when you arrive on campus or begin navigating and attending online. The situation is not made any better when you have to flip the campus map around four times to figure out where you are. These feelings are all very normal. In fact, you can expect this sensation pretty much every time you begin a new course or meet a new professor. The important part is this: Do not let fear and anxiety get the best of you. A little nervousness is a good thing. It quickens our pulse, keeps us on our toes, and means we are doing something exciting. With effort, a couple of weeks of classes will quickly replace any excessive fear with confidence, and anxiety with assurance as you begin to understand what is expected of you.

Know that you are not alone: This is probably the most important nugget of information. Roane State's spring 2016 enrollment synopsis reported enrollment of 5,292 students. Of those, 1,386 were 25 years old or older, and 564 of those students were 35 or older. That means that 1 in 4 students are 25-plus years of age; and 1 in 10 students is 35-plus years of age. Know then that your student peers will most likely include peers within your age range. Setting aside your peers' ages, all of them are students. Reach out to your classmates and make friends with them, younger and older. Your life will be greatly enriched by those with whom you interact. Who knows? Someone from a younger generation may help you get that 'A' you so desperately want. (But focus on your learning not making high grades.) Or, you might meet a wise young student who encourages and inspires you by saying, "You've got this!"
Shawn D. Van Horn, 46, of Harriman is completing his bachelor's degree in interdisciplinary studies at Tennessee Tech, a program offered on Roane State campuses. A married father of three, Shawn returned to school at Roane State at age 42 to improve his career opportunities. His next goal is to finish a graduate degree.
© Roane State Community College
Roane State Community College does not discriminate on the basis of race, color, religion, creed, ethnicity or national origin, sex, disability, age, status as protected veteran or any other class protected by Federal or State laws and regulation and by Tennessee board of Regents policies with respect to employment, programs, and activities.​​​​​​​ View full non-discrimination policy.