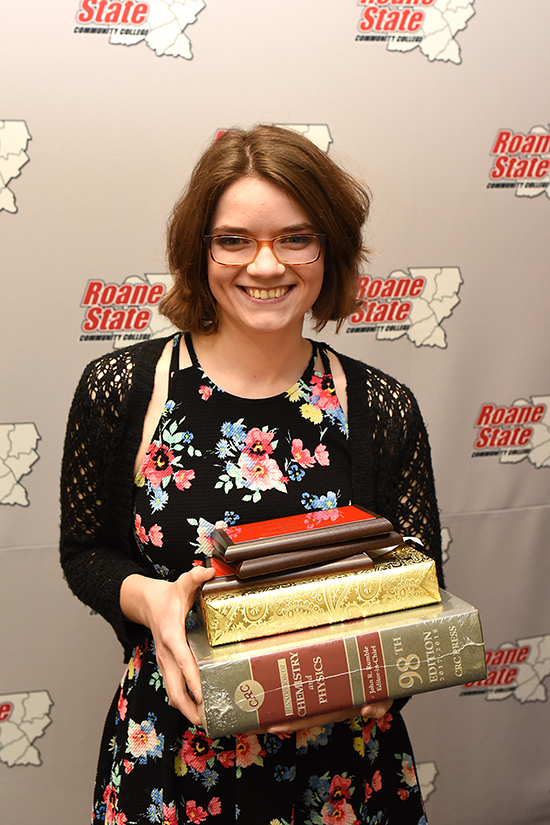 Roane State student Katelyn Laughon was among the students who participated in the college's Honors Program. A winner of numerous academic awards, Laughon plans to major in chemical engineering and mathematics at the University of Tennessee. She said the Roane State Honors Program "forced me to go beyond the normal course material in several of my classes."
July 10, 2018
By Bob Fowler
Roane State staff writer
The topics this year spanned the gamut, from polio to the opera "Turandot," from meningitis to the author Flannery O'Connor.
Those are some of the projects created by Roane State students who participated in the college's Honors Program.
The program isn't just research papers, says Professor Dan Hyder, who coordinates the effort with Dr. Peggy Hilliard.
"It's an opportunity for students who go above and beyond the normal classroom experience," Hyder said.
Recent projects have included the launch of recycling and mulching programs and a drive to obtain supplies for an elementary school. Medical equipment has been stockpiled for those in need. Even a song has been written and fellow students have been tutored; all by program participants.
"Several of the projects have forced me to go beyond the normal course material in several of my classes," said Katelyn Laughon, who submitted seven exhibits. "It's a good way to explore something that interests you."
Katelyn graduated with an Honors Diploma, receiving an associate degree in science with a focus in chemistry. She will be going to the University of Tennessee with plans to double major in chemical engineering and mathematics.
The four poems she wrote in her study of author Flannery O'Connor "really had me step outside of my comfort zone," Amber Morton said.
Launched in the early 1990s, the Honors Program gives outstanding students the chance to expand their education, burnish their resumes and open doors to universities and job offers.
Those are the long-term payoffs. Other, more immediate benefits have included field trips, the annual banquet, and a lunch, courtesy of the college, at an upscale eatery in Knoxville.
The latest academic year was one of the most successful ever for the program, Hyder said.
"The growth in numbers of faculty and students participating in the program is a testament to the quality of students who attend Roane State and the true desire of our faculty to nurture and mentor students to achieve a higher degree of learning," Hyder wrote in the latest annual overview of the program.
This academic year, there were 102 students who signed contracts with professors to create 238 Honors Program projects, Hyder said.
To be invited to participate, freshmen must have compiled a 3.5 grade point average in high school or score 25 or more on their ACT exam. Current students must have a 3.5 GPA and have completed at least 12 credit hours.
Honors Program participants at first meet with professors to brainstorm projects and sign contracts to show their intent to complete their efforts.
Those who keep a 3.3 GPA can earn a special honors designation on their diplomas. An Honors Associate graduate must complete 12 semester hours of honors credit, while 18 credit hours of Honors Program earns an Honors Diploma. Nine students this year earned that distinctive degree.