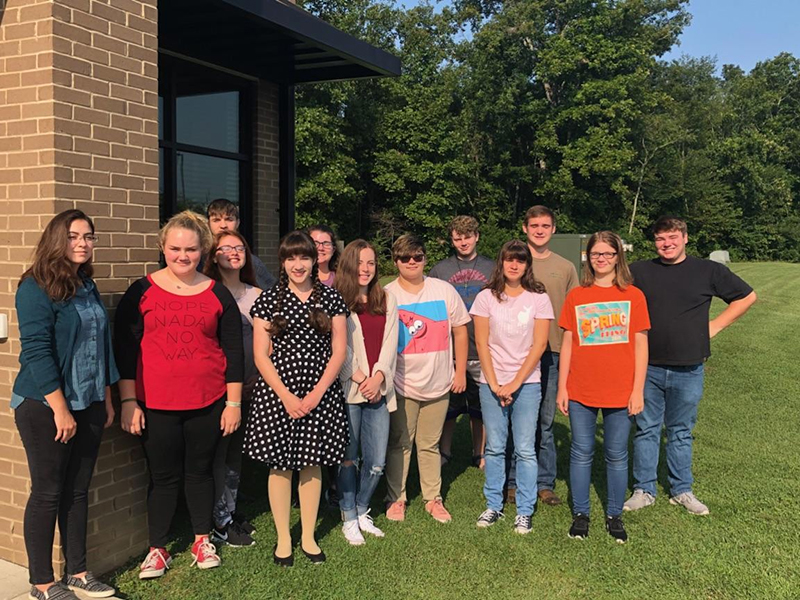 The inaugural Roane State Middle College class at the college's Cumberland County campus includes, from left in the front and middle rows, Regan Tacke, Bailey Keyes, Mikayla Vanlandingham, Emma Norrod, Samantha Amsden, Cheryl Rodriguez, Makenzie Pentz and Rhiannon Sexton. In back, from left: Elijah Oakes, Alyssa Woody, Jacob Jackson, Andrew Johnson and Davis Ashburn.
Sept. 20, 2018
By Bob Fowler
Roane State staff writer
Roane State's popular Middle College program is off to a strong start on the Cumberland Plateau.
Thirteen rising juniors from Cumberland County High School and Stone Memorial High School have started Middle College. They attend college in the mornings and return to their high schools in the afternoons.
Middle College students graduate from Roane State a few weeks before they graduate from high school and earn an associate degree and high school diploma at the same time. The program enables to students to start as juniors when they go to a four-year university.
"I'm so proud of this inaugural cohort of students," said Ann Morphew, Middle College support staff member. "Two years from now, I look forward to seeing each of them graduate with their Roane State associate's degree before they graduate from their high schools!"
"I knew I had to participate in this program," student Mikayla Vanlandingham said. "It gives me such a head start on my life that I knew I'd only be doing myself a disservice if I didn't enroll."
Middle College enrollee Cheryl Rodriguez expressed similar sentiments.
"I decided to enroll in Middle College to not only knock a couple of years of school off, but also to prove to myself how much I could excel in education," she said.
Principals of Cumberland County's two high schools voiced support for Middle College.
"We are proud that our students have the opportunity to be involved in the Middle College program," Stone Memorial High School Principal Dr. Scott Maddox said.
"I think the Middle College opportunity is a fantastic way for high-achieving students to get a jump on their college career," said Jon Hall, principal of Cumberland County High School.
Middle College students take general education subjects in their first year and then classes geared toward their majors in their second year.
Numerous area organizations and businesses sponsored the Cumberland County Middle College class and donated funds for special T-shirts and Middle College scholarships.
Gold Level sponsors are Patterson's Home Appliance Center, Perma Fix Environmental Services, Roane Street Grill, The UPS Store (Harriman), Eddie's Body Shop, First National Bank of Tennessee, Covenant Health (Crossville Medical Center) and Oak Ridge National Laboratory.
Silver Level sponsors: Mike's Body Shop, All-Star Promotions, The Sherrill Family, Eco Travel Place, Baptist Collegiate Ministries and Shadden Tire Pros.
Bronze Level sponsors: Oak Lawn Baptist Church, Food City (Crossville), Don Educardo's Mexican Grill and Crab Orchard Christian Church.
For more information on Middle College, visit roanestate.edu/middlecollege.