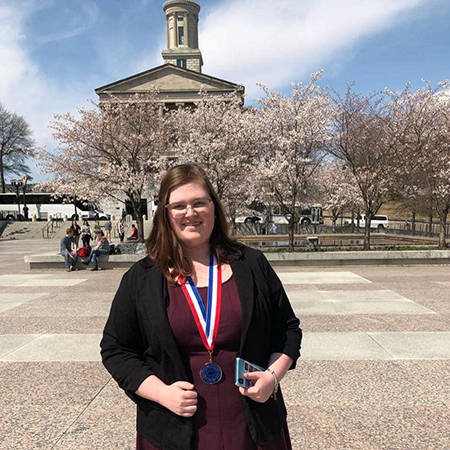 Destiny Lawson
May 22, 2019
By Bob Fowler
Roane State staff writer
Roane State Community College student Destiny Lawson said her college experiences and extracurricular activities included an unexpected perk: "I didn't expect to make as many friends as I have," she said.
Lawson, 19, graduated in May and took classes at the college's W.H. Swain Scott County Center for Higher Education in Huntsville. The campus is close to her home.
Along with her studies, Lawson had a full slate of college-related activities, including president and social media coordinator of the Roane State chapter of Phi Theta Kappa, or PTK, an international honor society for two-year colleges.
She was also secretary of Roane State's Student Government Association and was in the House of Representatives of TISL, or the Tennessee Intercollegiate State Legislature.
Scholastic honors include being one of two Roane State students named to the All-State Academic Team. She was nominated by Claudia Cummings, the Roane State PTK chapter advisor.
To cap an already busy schedule, she was a work-study student, putting in 20 hours a week as a campus secretary and as an assistant to the college's success coaches. The work-study program allows students to work on campus while they go to school.
Lawson graduated in 2017 from Scott County High School and was class salutatorian with a 4.1379 grade point average. She's the daughter of Mark and Tammy Lawson of Huntsville and has a 15-year-old brother, Markus.
While in high school, she received 21 hours of college credit under Roane State's dual enrollment program.
Lawson wanted to stay close to home after high school to be near an ailing family member. "It (the Roane State campus) is very convenient because I live 15 minutes away," Lawson said.
At first, she eyed a major in a healthcare field but decided instead on political science. "I like learning how government works," she said. Among her favorite teachers: Dan Terry, who teaches political science, and Eugene Prater, who teaches American history.
Lawson praised the staff at Roane State's Scott County campus. "Anytime I have a problem, it's taken care of quickly."
Lawson intends to go to Middle Tennessee State University, where she plans to study international relations. That fits in with one of her passions: "I love to travel," she said.
To learn more about Roane State's Scott County campus, visit roanestate.edu/scott or call (423) 663-3878.
Remember, eligible adults can now attend Roane State tuition-free with the new Reconnect grant. Learn more at roanestate.edu/reconnect.