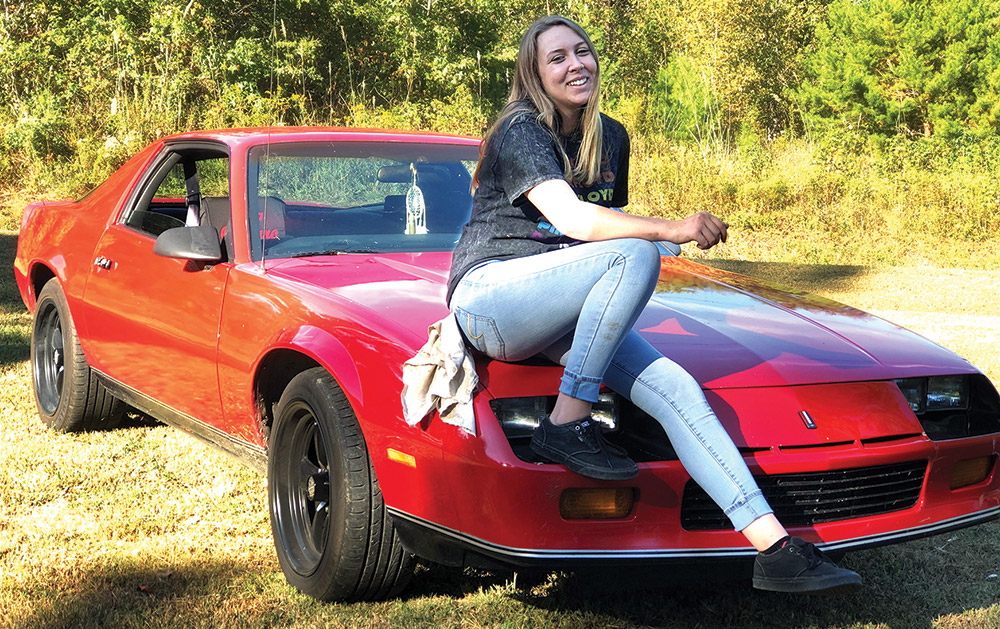 A smiling Briana Gaines sits atop her labor of love, a 1986 Chevrolet Camaro that the Roane State Community College student has been restoring for the past three years.
Sept. 27, 2019
By Bob Fowler
Roane State staff writer
Step by step, part by part, a Roane State freshman coed is painstakingly restoring an antique muscle car to its glory days.
The student is Briana Gaines, 18, of Spring City, who's in her first semester at Roane State. She said she picked Roane State because it's close to home and features smaller classes.
The car is the third-generation 1986 Chevy Camaro that she purchased for $3,200 off Craigslist. "I like the body style, but if I had the money, I would have gotten a first-generation Camaro," Gaines said.

She's been working on the Camaro for three years, including pulling the motor and putting some $1,700 in new parts into it, including a new carburetor. She also installed a new exhaust system, "and it sounds great," she said.
Stepdad Randy Jenkins helped her unbolt the existing motor using a hydraulic shop crane.

"It's definitely a work in progress," Gaines said of her car. When it's not being revamped, she drives it to classes at Roane State's Roane County campus. She's taking introductory classes with an eye toward majoring in business administration.
"I've always really liked older cars," Gaines said. "I see myself as an old soul, and I'd much rather drive an older car."
"I got interested in drag racing when I was 14, and I wanted a classic car to be my first car."
Gaines said she wants to keep the same bright red color when she repaints it, but there are "money and time issues."
"I'm really proud of the work I've put into it, and I really want to enter a car show, but it's not ready yet. And it's definitely just a hobby."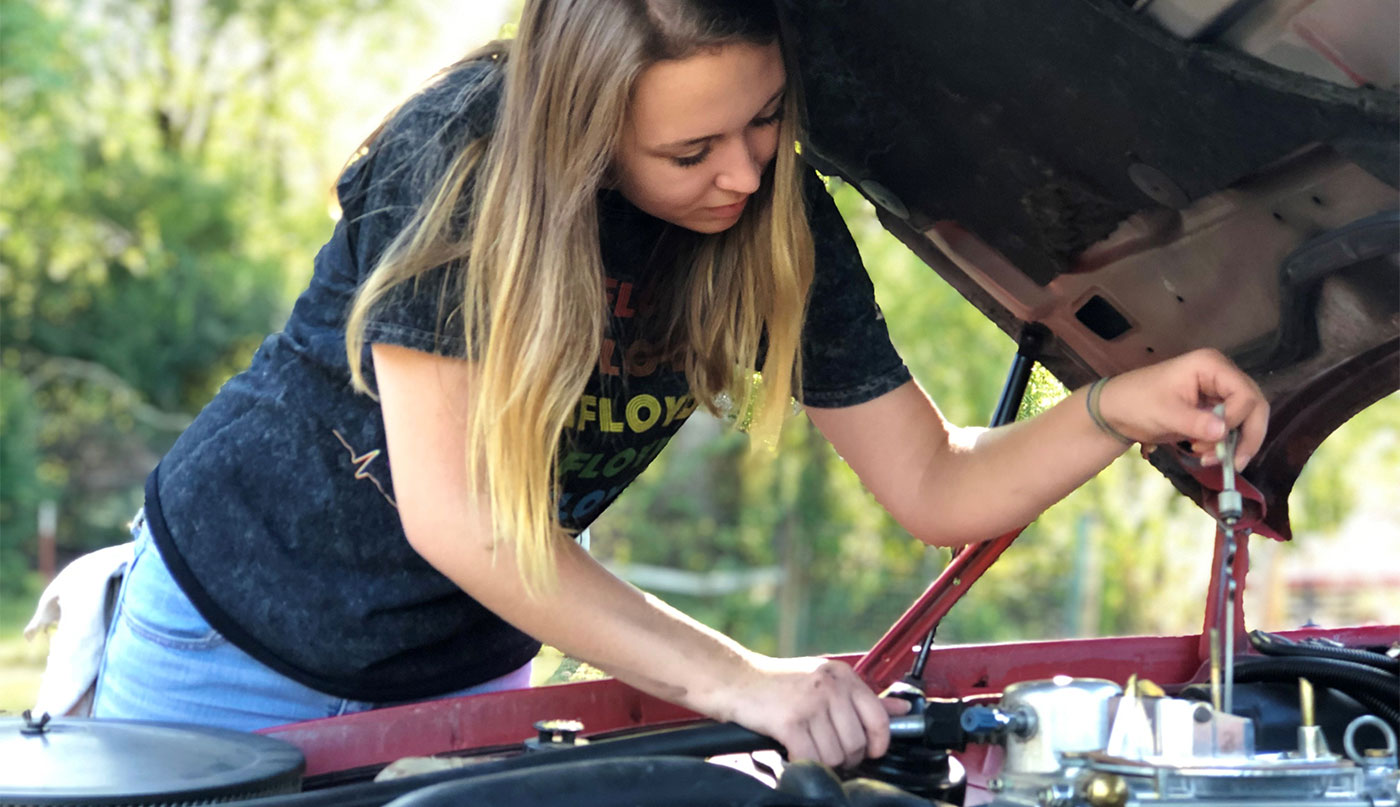 Briana Gaines, a freshman at Roane State Community College, has been restoring an antique muscle car for three years, and she's often under the hood of the 1986 Chevy Camaro.
Gaines said she's enjoying her first few weeks at Roane State. "All my classes are great." She singled out Prof. Matt Waters, who teaches fundamentals of communication, as most likely her favorite instructor.
"I want to call him Matt," she said. "He has that kind of personality."
Roane State is a two-year college providing transfer programs, career-preparation programs and continuing education. Founded in 1971, the college has campuses in Crossville, Harriman, Huntsville, Jamestown, Knoxville, LaFollette, Lenoir City, Oak Ridge, Wartburg and Clinton.
For more information, visit roanestate.edu or call (865) 882-4554.

Remember, eligible adults can now attend Roane State tuition-free with the new Reconnect grant. Learn more at www.roanestate.edu/reconnect.