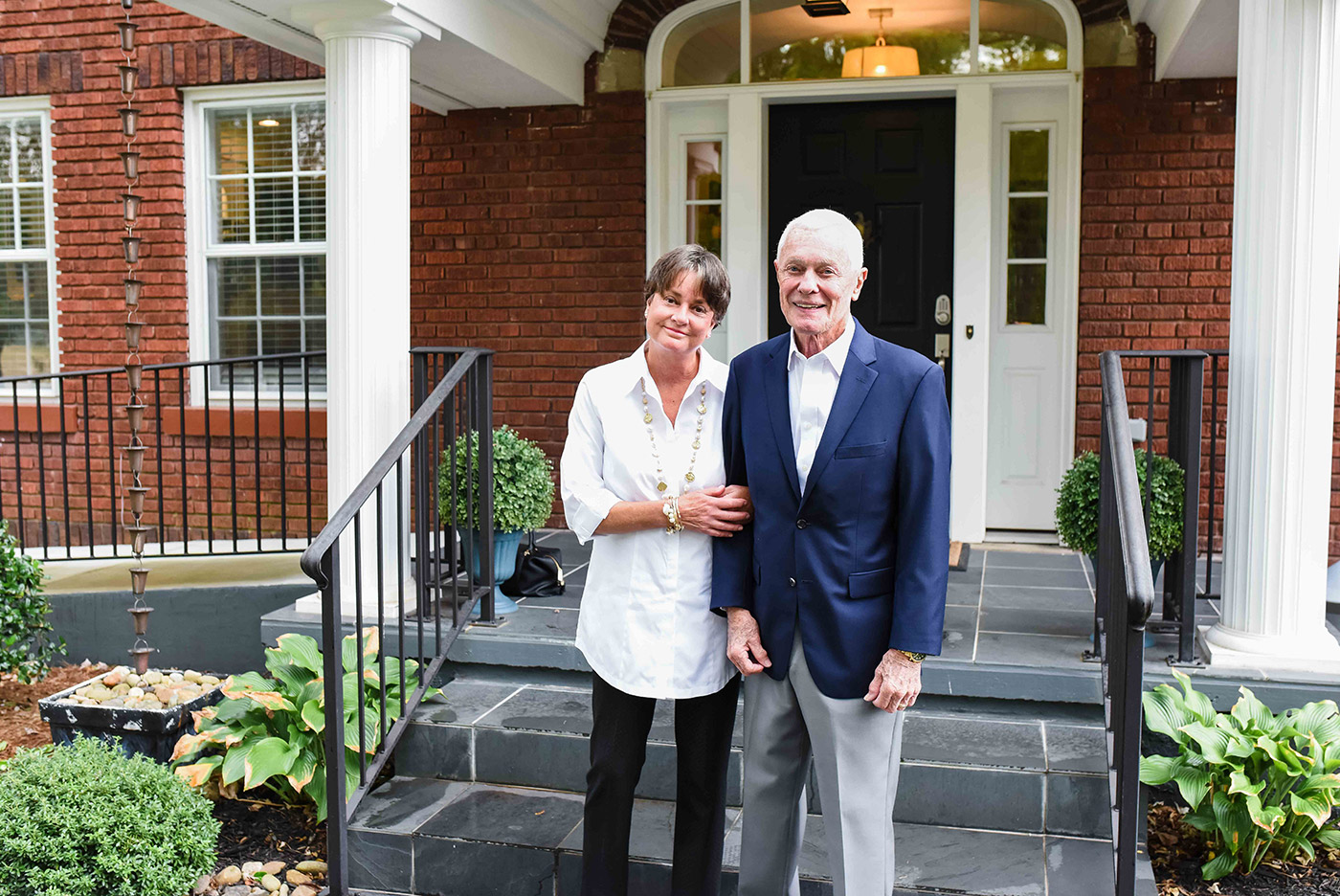 The Tennessee Board of Regents recently awarded its Chancellor's Award for Excellence in Philanthropy to Campbell County residents Ed and Carol Wheeler for their longtime support of Roane State Community College's Campbell County Higher Education Center.
Oct. 9, 2019
By Bob Fowler
Roane State staff writer
The Tennessee Board of Regents has given the prestigious Chancellor's Award for Excellence in Philanthropy to a Campbell County couple for their crucial, ongoing support of Roane State's Campbell County Higher Education Center.
Ed and Carol Wheeler received the award – one of only four statewide honors bestowed annually – during an event in support of Roane State students held on the ClaiHill Farms event venue in LaFollette in late September.
Nearly 50 Roane State Community College backers attended the celebration. "I am so appreciative to all of you and our foundation board for making education accessible here in Campbell County," Roane State President Chris Whaley said in opening remarks. "With your help, Roane State is a premier learning institution, transforming lives and strengthening our communities."
Dr. Robert Denn, associate vice chancellor in TBR's Office of Academic Affairs, presented the award to the Wheelers. It's been bestowed annually since 2003 to those "who graciously donate their time and finances to TBR institutions," he said.
Denn said the Wheelers "have provided exceptional leadership and shown an undying passion for higher education, not only to their community but all those surrounding them."
"They knew education was the key to improving their community, and they knew Roane State was the way to do that."
The Wheelers are credited for making a permanent Roane State campus in Campbell County a reality, Denn said. The former owners of the First Bank of East Tennessee gave the Roane State Foundation more than nine acres of prime commercial property for the permanent campus and led efforts to raise more than $3.5 million for that 23,000 square foot facility nestled in the shadows of the Cumberland Mountains. The campus opened in the fall of 2005.
The Wheelers over subsequent years realized the need for a science lab on campus and successfully urged state lawmakers to provide $1.1 million for the lab and two classrooms, Denn said.
"In addition to Ed and Carolyn's contributions of over $800,000 to Roane State, they continuously support our students," he said.
In 2018, the couple "led an event in Campbell County raising over $25,000 for Middle College and Dual Enrollment students," Denn said. Ed Wheeler has served on the Roane State Foundation Board of Directors since 1999, he added.
The Wheelers have also benefited their community in other ways, including service to their local Chambers of Commerce, the Advocacy Board of Children of the Cumberland Mountains Coalition, the Regional Education and Community Health Services Board, and LaFollette United Methodist Church. Whenever the Wheelers "realize there is need in their community, they step forward to offer their assistance," Denn said.
Nearly 50 Campbell County residents showed their support for Roane State Community College and its Campbell County Higher Education Center during a recent event at ClaiHill Farms in Lafollette.
Roane State is a two-year college providing transfer programs, career-preparation programs and continuing education. Founded in 1971, the college has campuses in Crossville, Harriman, Huntsville, Jamestown, Knoxville, LaFollette, Lenoir City, Oak Ridge, Wartburg and Clinton.
For more information, visit roanestate.edu or call (865) 882-4554.
Remember, eligible adults can now attend Roane State tuition-free with the new Reconnect grant. Learn more at www.roanestate.edu/reconnect.
The Roane State Foundation supports the college with capital projects, equipment, educational programs and scholarships. For more information or to make a gift to support Roane State students, visit roanestate.edu/foundation, email Foundationdept@roanestate.edu, or call (865) 882-4507.