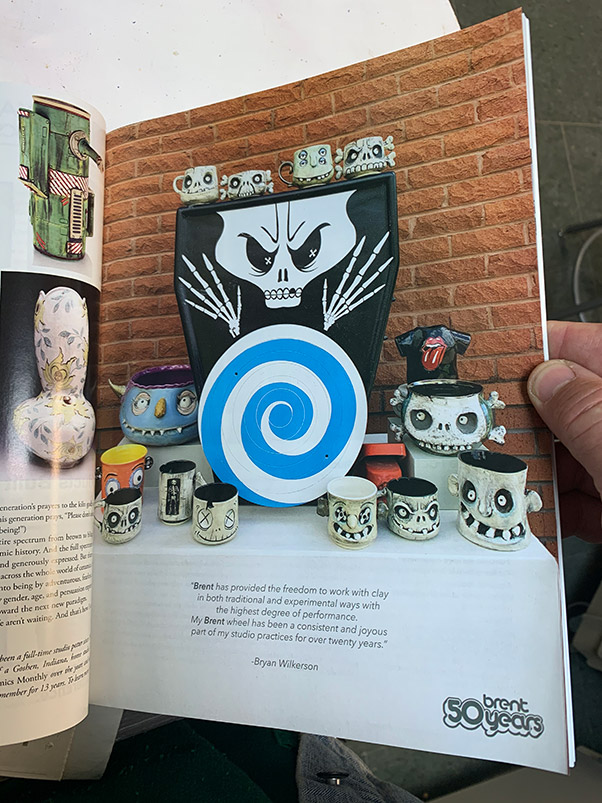 This ad featuring some of the whimsical creations of Roane State art professor Bryan Wilkerson was featured in a recent edition of "Ceramics Monthly."
Oct. 25, 2019
A Roane State art professor's whimsical creations – including grinning skulls and mystical creatures on ceramic mugs and bowls, and a brightly painted ceramic wheel – are showcased in a page ad in "Ceramics Monthly," the nation's foremost magazine devoted to clay artistry.
Bryan Wilkerson's handiwork, including his painting of a pottery wheel, are featured in the ad taken by AMACO Brent, also known as the American Art and Clay Company, in celebration of the company's 50th year in business.
The company requested testimonials from various artists last March, and his creations were selected for the ad, which was published recently, Wilkerson said.
The recognition is a "huge deal in the ceramics world," said Teresa Duncan, Roane State's vice president of workforce and community development.
"I was thrilled to be selected," Wilkerson said.
© Roane State Community College
Roane State Community College does not discriminate on the basis of race, color, religion, creed, ethnicity or national origin, sex, disability, age, status as protected veteran or any other class protected by Federal or State laws and regulation and by Tennessee board of Regents policies with respect to employment, programs, and activities.​​​​​​​ View full non-discrimination policy.