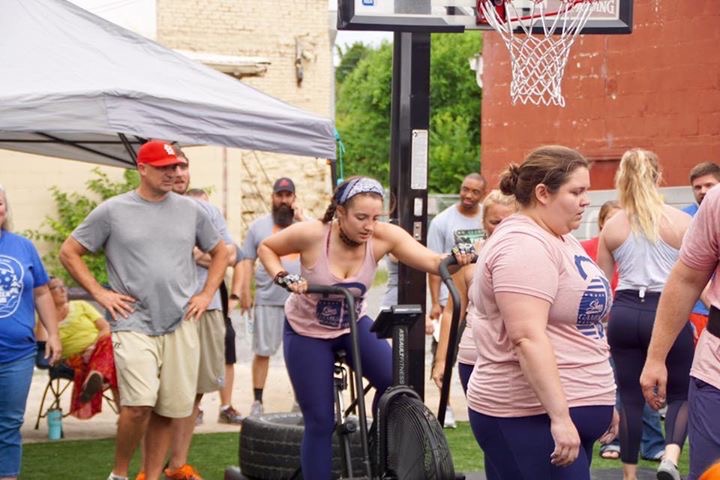 Lena Miller, a sophomore at Roane State, is pictured working out at the Dayton CrossFit facility while surrounded by other physical fitness fans.
Oct. 24, 2019
By Bob Fowler
Roane State staff writer
This Roane State Community College sophomore is learning while staying physically fit.
When she's not hitting the books, Lena Miller is working out and training for an athletic competition in mid-November.
Miller, 19, said she's been doing the rigorous CrossFit regimen for nearly a year and is getting ready for the third annual "Battle of the Badges" physical fitness competition at Warren County High School in McMinnville, Tenn.
Miller, who lives in Dayton, Tenn., said she ran in cross-country and track competitions while attending Rhea County High. The daughter of Bruce and Misty Miller, Lena Miller said she also used to work out with her Dad.
Now, "I've been doing CrossFit for almost a year," she said. "It's a mix of cardio and lifting weights that's matched together, and it's always interesting."
She said she typically works out three to five days a week for an hour to 90 minutes at a time. "It's all about feeling good after the workout," she said. "I feel more clear-minded for school. I feel more energetic. It boosts my confidence."
Her physical fitness has helped in the scholastic realm, she said. "So far, I've made all "A"s, she said of her academic record at Roane State. "Hopefully, it will stay that way."
Miller said she's on track to graduate from Roane State in May with an associate's degree in pre-health sciences. Her current course load is daunting and includes organic chemistry, calculus, general biology and early American literature.
"The professors are all great," she said. "I like that one-on-one relationship" with her instructors, saying they're "very helpful and willing to go the extra step for students." Miller cited Associate Professor Steve Ward, who teaches chemistry, and Assistant Professor Elizabeth Genovise, her literature teacher, as her personal favorites.
Her plan is to go to Tennessee Tech in Cookeville next fall as she works toward her goal of becoming an optometrist. Her eye doctor, Dr. Bradley Shaffer of Rhea County "has been a huge inspiration ever since I was little," she said. She now works part-time for him, and the CrossFit gym where she usually exercises is next-door.
Getting outfitted with her first pair of glasses was a transformative experience, Miller said. "The first time I put on my glasses, I couldn't believe the difference. You could see every individual leaf in a tree."