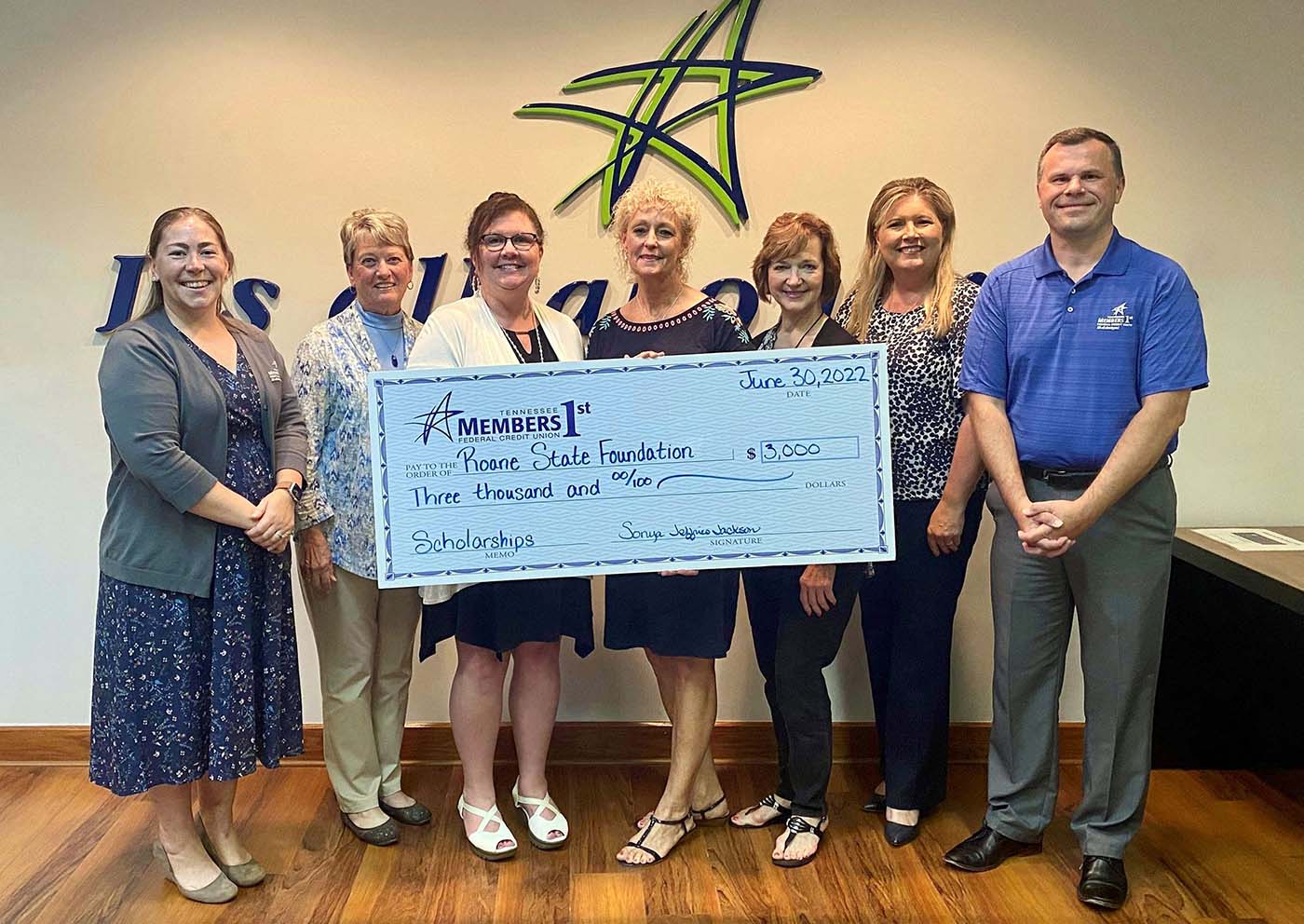 Photo: TN Members 1st FCU presents a check to Roane State Community College's non-profit Foundation for $3,000. Pictured left to right are: Richelle Ballenger, TN Members 1st AVP Marketing; Joy Goldberg, Roane State Foundation Board Member; Pamela Rudnitzki, Roane State Foundation Director of Student Programs; Sonya Jackson, TN Members 1st Board Chair; Judy Stone Wilson, TN Members 1st Board Member; Nancy Taylor, TN Members 1st Board Member; and Rick Mikels, TN Members 1st President/CEO.
August 11, 2022
A 75-year-old federal credit union that serves three East Tennessee counties has once again presented Roane State Foundation with a $3,000 contribution to benefit students at Roane State.
"We are so grateful to TN Members 1st for their ongoing support," said Scott Niermann, Executive Director of Roane State Foundation. "Their continued generosity will enable us to provide critical support to Roane State students across Anderson County."
This is the third annual gift by TN Members 1st to the Foundation, which will help fund scholarships to students attending Roane State Community College.
"At TN Members 1st, we absolutely love being able to provide to the Roane State Foundation and are continually amazed and inspired by the students and their ambitions," said Richelle Ballenger, AVP of Marketing. "This is one important way that we can give back to our community."
Originally chartered in 1946, TN Members 1st FCU serves Anderson, Knox and Roane counties with branches at 112 Administration Road in Oak Ridge and 112 Marketplace Blvd. in Knoxville. Members can take advantage of various checking, savings, investment and lending options as well as financial education opportunities, reward programs and identity protection programs. For more information, visit mymembersfirst.org.
The Roane State Foundation is a separate 501(c)(3) corporation governed by an independent board of directors and established to provide financial support for Roane State students and programs. The Foundation seeks to enhance community awareness of the college, to secure private contributions and bequests and to manage monies or properties given to the Foundation. For more information, visit roanestate.edu/foundation or email Foundationdept@roanestate.edu.