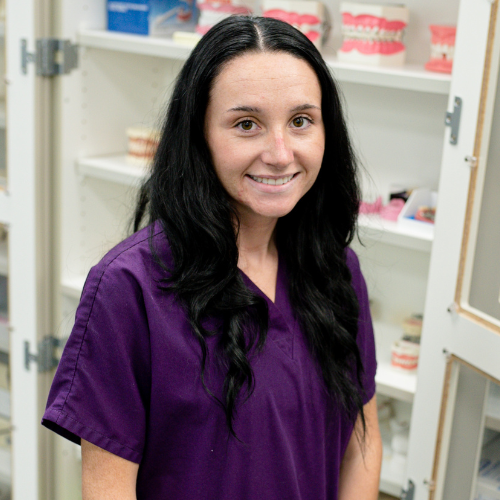 May 2, 2023
A Roane State student in the college's dental hygiene program became the first in the nation to receive a prestigious new scholarship this spring.
Lindsey Evans, a second-year dental hygiene student, was awarded the Dr. Richard Weems Dental Hygiene Seminars Scholarship earlier this year at the Dental Hygiene Board Seminar in Atlanta. The scholarship is provided by Dental Hygiene Seminars (DHS).
"I am thrilled that out of the entire United States, our very own Lindsey Evans was selected," said Melinda Gill, Roane State's dental hygiene program director. "She is truly a brilliant, hardworking, dedicated, compassionate student and I could not be happier to see her receive this recognition."
Dr. Weems was a long-time oral radiology speaker at the DHS Board Review. His passing last year inspired DHS President Heather Mapp and her company to honor his memory with a scholarship in his name.
Across the nation, dental hygiene program directors who attended the Dental Hygiene Board Seminar were asked to select a student who stood out as exceptional.
The directors submitted descriptions of their students, explaining why they will be a wonderful addition to the profession of dental hygiene. Out of all those nominations, Evans was chosen as the scholarship recipient.
"I'm very honored to be receiving the Dr. Richard Weems Scholarship," Evans said of the honor. "I know I would not be where I am without my amazing classmates and instructors."
Evans will graduate this Saturday, May 6, and said her first goal after college is to find a full-time dental hygienist position in the Cookeville area.
"This career has been a dream of mine and I am excited to see what is in store for the future," she added.
Additional information about Roane State's Dental Hygiene Program is available online at roanestate.edu/dentalhygiene.