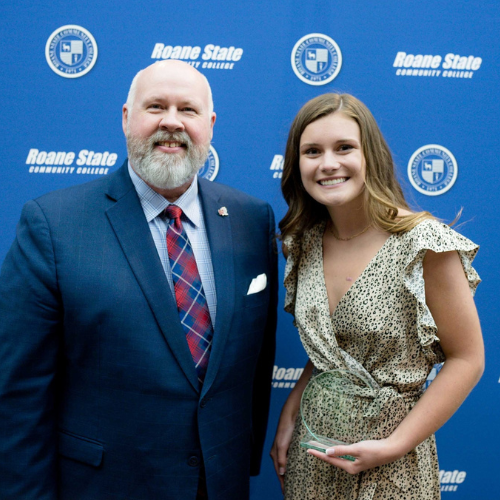 May 23, 2023
By Deborah Robbins
Roane State staff writer
For the first time in more than 50 years, a Roane State Middle College student has received the President's Award, the college's highest honor for students.
Leah Cobble, 18, was announced as the winner during Roane State's annual Awards Night held in late April on the flagship campus in Harriman.
"I was beyond shocked when my name was called," Cobble said. "Being so young, and the only Middle College student up on stage, I felt as if I didn't have a chance. It's an honor to be presented this award because of how hard I worked."
Cobble, one of 15 nominees up for the award, graduated from Anderson County High School just two short weeks after her graduation from Roane State. As part of her President's Award honor, she was selected to give commencement speeches to the Roane State Class of 2023.
"Anyone who hears Leah's story is immediately captivated by her resilience, intelligence, and hard-working spirit," Roane State President Chris Whaley said. "She is more than deserving of this award and we are delighted to be able to recognize her long list of accomplishments during her time at RSCC."
Each year, the President's Award is granted to one student who excels both in and out of the classroom. Students are nominated by Roane State faculty and staff. They must be graduating full-time sophomores and have a GPA of 3.5 or higher to be eligible for the award.
Cobble maintained a 4.0 GPA throughout her entire academic career at Roane State. She also served as vice president of leadership for Phi Theta Kappa and participated in Roane State's honors program. She was given a $1,500 cash award and a plaque to commemorate her achievement.
For 2023, the award also included an opportunity for students to recognize a Roane State faculty member who left an impact on their educational journey.
Cobble selected Associate Professor of Chemistry, Mathematics, and Sciences Steve Ward for this acknowledgement, as Ward nominated her for the President's Award. She attended Ward's organic chemistry class this past summer.
"Leah had many outstanding faculty and staff members at Roane State that helped her along each step of her journey," Ward said. "I was honored and also humbled when she chose to recognize me. Realizing that we make such a difference in the lives of our students is what makes Roane State a special place to work."
Cobble stated that her passion for medicine is what drives her, after sharing her own health struggles living with Crohn's disease in her commencement speech. Her case was so severe she was admitted to Cincinnati Children's Hospital.
"I weighed approximately 80 pounds and had been on a feeding tube for 11 months," Cobble said in her speech. "I was admitted for organ failure. It [Crohn's disease] had taken control of my life with 64 days spent in the hospital and eight surgeries."
Cobble said a new medication transformed her future for the better. It also allowed her to work part-time as a pharmacy technician at Hoskins Drug Store in Clinton.
"I chose pharmacy to help others through my prior experiences," said Cobble. "I will always be grateful for the opportunities Middle College allowed me. In two years, I've obtained over 80 hours to get my prerequisites for pharmacy."
Roane State's Middle College program allows students to earn a college degree while still in high school. It is an opportunity for motivated students to start college early and get a head start on their degree.
In the fall, Cobble will attend the Medical University of South Carolina's College of Pharmacy to begin pursuing her Doctor of Pharmacy degree.
For additional details and eligibility requirements for Roane State's Middle College program, visit roanestate.edu/middlecollege.
To watch the Awards Night ceremony and 2023 Commencement Ceremonies, visit youtube.com/roanestatecc.