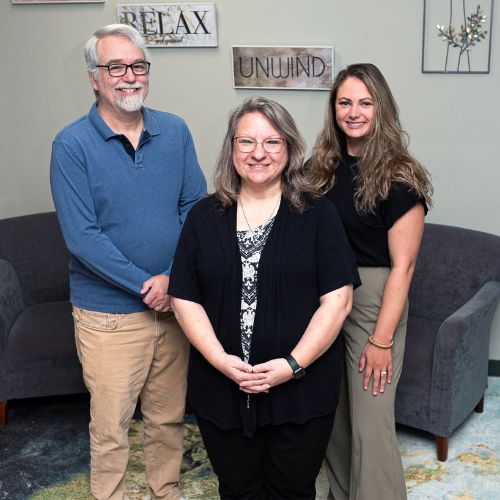 September 8, 2023
By Deborah Robbins
Roane State staff writer
Roane State Community College and the University of Tennessee have partnered to offer counseling students first-hand clinical experience through a unique internship experience.
The opportunity allows interns to complete UT graduation requirements with a single semester practicum in the spring, followed by a three-semester internship in the fall. During this time, the interns learn how to manage caseloads and practice their clinical skills with RSCC students.
The interns are supervised by a Roane State licensed professional counselor. One of those counselors, Jeff Snell, emphasized the value the interns add to RSCC.
"We definitely want Roane State students to be aware that we have these additional clinicians available to assist them," Snell said. "They are qualified and can help RSCC students work through any issues they may have, such as stress management, family trauma, domestic violence, financial stress, anxiety issues, and many others."
This fall, Roane State is welcoming a returning intern back to the college who will be continuing their internship until summer 2024. They will be located at RSCC's Oak Ridge Campus alongside Snell and his team composed of full-time counselor Laura Branson and part-time counselor Elizabeth Tarver. Tarver was a previous UT intern who currently works for RSCC.
"My time as an intern allowed me to gain experience providing counseling services to students experiencing a variety of concerns," Tarver said. "I was able to practice different counseling techniques and grow confident in my ability to assess my clients' concerns and collaborate with them to find solutions."
"This partnership has completely changed our ability to provide services to our students," said Roane State Dean of Students Dr. Lisa Steffensen. "Thanks to the additional support, we do not have to limit sessions or place students on a wait list to see a counselor. The interns have shown incredible compassion and a strong desire to help students when they need it most."
The partnership began during the spring of 2021, after UT reached out to Roane State during the COVID-19 pandemic. At the time, UT needed sites to place students, and the collaboration has grown stronger with four UT counseling students now having completed the internship.
Counseling services are free to all RSCC students, and sessions are kept confidential.
Students can set up in-person or virtual appointments via Zoom from the Roane State counseling services website with any of the department's current staff or interns.
For more information about Roane State's counseling services, visit roanestate.edu/counseling.