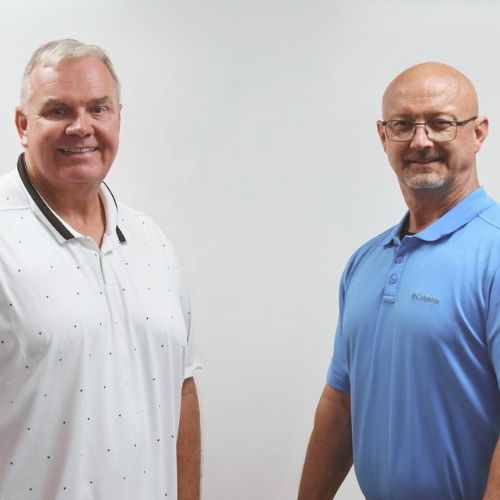 September 14, 2023
Article originally published by TCCAA on September 2, 2023. This version has been edited.
Marty McDaniel was recently introduced as the new head softball coach at Roane State. McDaniel brings more than 25 years of college coaching experience as both as an assistant and head coach at the NCAA levels. He started the NCAA Division II program at Armstrong Atlantic and served as an assistant pitching coach for 19 years at both the University of Tennessee and Georgia Tech University.
McDaniel is an East Tennessee native as he was a high school baseball standout in the Chattanooga area. His family name is well known in the region as he, his brothers, and father along with several relatives were standouts in men's fastpitch softball.
In a meeting wth his new squad, he spoke of wanting hard workers, both in the classroom and on the field. He follows a simple five piece plan to success: faith, family, academics, attitude, and softball.
McDaniel received his bachelor's of science from Carson-Newman University where he also assisted the baseball programs. He was then an assistant at the University of Tennessee Chattanooga for two years from 1996-97 before accepting the head softball position at Armstrong Atlantic State University (now known as Georgia Southern) in Savannah, Georgia. He led the Pirates to four NCAA regional appearanes in his seven seasons. He was also named the South Atlantic Region Coach of the Year in 2000 when his squad won the Peach Belt Conference.
In 2004, he rejoined Ralph Weekly as the pitching coach for the University of Tennessee. In his time at Knoxville, he helped coach 34 National Fastpitch Coaches Association (NFCA) All-Americans, 60 NFCA All-Region selections, and 70 All-SEC or all-freshman selections. In his three years at Georgia Tech, the Yellow Jacket program pitching staff showed marked improvement.
Roane State also announced McDaniel will be joined by former UT pitcher Ashley Rogers as his pitching coach. Rogers just finished her career with the Vols, and was coached by McDaniel during her freshman and sophomore years at UT.
© Roane State Community College
Roane State Community College does not discriminate on the basis of race, color, religion, creed, ethnicity or national origin, sex, disability, age, status as protected veteran or any other class protected by Federal or State laws and regulation and by Tennessee board of Regents policies with respect to employment, programs, and activities.​​​​​​​ View full non-discrimination policy.