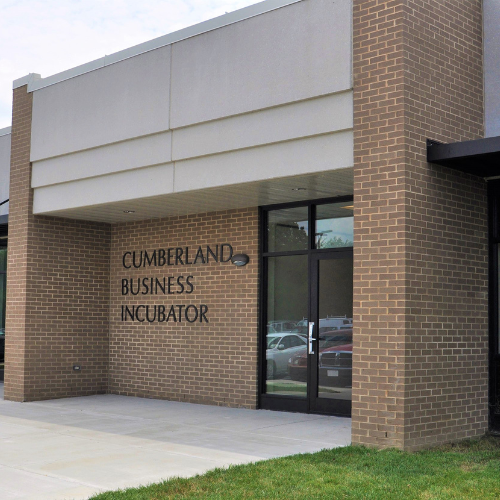 October 31, 2023
By Deborah Robbins
Roane State staff writer
Two tenants at Roane State's Cumberland Business Incubator (CBI) have taken the next step in growing their businesses while creating economic development for the larger East Tennessee region.
CrossLink Composites Inc., a carbon fiber and composites manufacturer, and Statherós LLC, a government contracting startup, are each going their own separate ways and leaving CBI's facilities. But what they have in common is that their continued commercial success was made possible thanks to CBI's resources.
Roane State's CBI opened in 2011 at the Cumberland County Center, where it has provided an open environment to foster business development. The facility has guided entrepreneurs through the many stages of creating, running, and owning a successful business.
The CBI offers a variety of amenities and resources including office spaces, manufacturing, co-working, and maker spaces and equipment, educational workshops, free-of-charge business coaching, mentoring, access to capital, and much more.
"CrossLink Composites came to the CBI needing an office and space for their industrial composite winding machine," CBI Director Holly Hanson said.
Hanson also shared that Roane State installed the necessary electrical service for their equipment and provided them 24/7 access so they were able to work at any time, day or night.
"The CBI has been very important to our development since we became tenants in September 2020," CrossLink Composites President and CFO James Dolan said. "It was our first real, third-party, not-my-house workspace, and it gave us our first professional address."
Founded by Connie Jackson, CrossLink Composites offers tailored, low-cost carbon fiber that's customized to meet clients' needs. Carbon fiber is known for its lightweight capabilities, durability, and strength, making it a sought-after material in many industries.
"During our tenancy with the CBI, we got our first customer purchase order, developed advances in our proprietary materials technology, and filed multiple patents," Dolan said. "It gave us the necessary space to execute work funded by three National Science Foundation grants and a LaunchTN grant."
The company recently moved into a 12,000 square foot complex on Harriman Highway in Roane County after leaving the CBI in late August.
"This will enable us to begin commercial production as well as provide R&D lab operations to continue product development," Dolan said. "We started locally, and we're staying local."
Dolan shared that CrossLink Composites now has two industrial customers, both of which are Fortune 500 companies requiring large, recurring carbon fiber deliveries.
Statherós specializes in designing and developing secure radio frequency systems and software to advance Electromagnetic Spectrum Operations for the United States military. The company strives to eliminate high-priority technology gaps to strengthen national defense efforts.
"Statherós initially needed a business address instead of using their home address, so they started by renting a mailbox here," Hanson said. "Eventually, they needed high speed internet beyond what they had available at home and moved into the CBI."
"The CBI has been tremendously helpful in establishing and growing our business through the provision of flexible office space lease terms, business mentoring and assistance, collaborative network matchmaking, and grant opportunity awareness campaigns," Founder and President of Statherós David Murray said.
Murray added that the CBI helped the company streamline business operations, allowing them to focus efforts on building an intellectual property portfolio.
"Statherós is very grateful for the CBI, and we strongly recommend that local, small businesses utilize the CBI's services and wealth of expertise," Murray said.
The company secured a new office space over the summer, and Murray shared that his family has also now joined him in Knoxville. (Pictured here are David Murray with his wife Jennifer, 15-year-old son Garrett, and their dog Gidget.)
As Statherós continues to grow, Murray anticipates hiring more employees in the coming months, beyond the company's initial five employees.
The CBI is for anyone wanting to learn more about what it takes to start a successful business. Currently, the CBI is working with more than 700 entrepreneurs and businesses.
"If you are thinking of starting a business today, or some day in the future, it's never too early to start working with a business coach about all the details of that business," Hanson said. "The more time you spend learning about running a business and refining your business idea, the more likely the business will be a success."
For more information about Roane State's CBI, visit cumberlandincubator.com.