Advising Resource Center (ARC)
Success Coaches & Academic Advisors
All degree-seeking students will be assigned a Success Coach for their first semester of attendance at Roane State. When student success criteria are achieved, you will then be assigned to a faculty advisor. This advisor is very knowledgeable of your major, and will have specialized information you'll need to transition to your university or career.
Find Your Major, Success Coach or Academic Advisor
Your major and your Success Coach or Academic Advisor's name and contact information are at the top of RaiderNet after you have logged in. Example: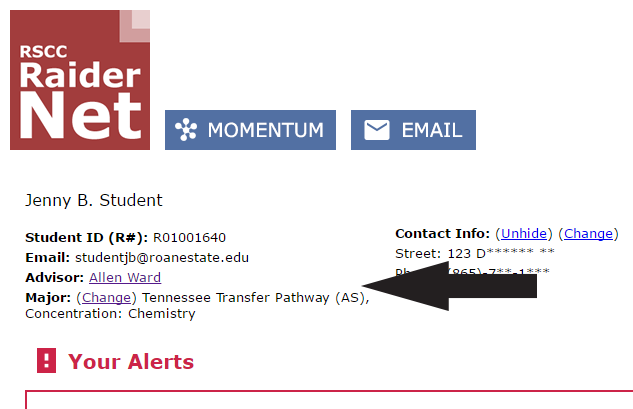 Need to Change Your Major?
If your major is not accurate on this screen in Raidernet, you can complete the Change of Major Form. Instructions are provided on the form. Please allow 2-5 business days for processing. Once your change of major is processed, you will be assigned a new faculty advisor appropriate for your new major.
Other Questions?
© Roane State Community College
Roane State Community College does not discriminate on the basis of race, color, religion, creed, ethnicity or national origin, sex, disability, age, status as protected veteran or any other class protected by Federal or State laws and regulation and by Tennessee board of Regents policies with respect to employment, programs, and activities.​​​​​​​ View full non-discrimination policy.