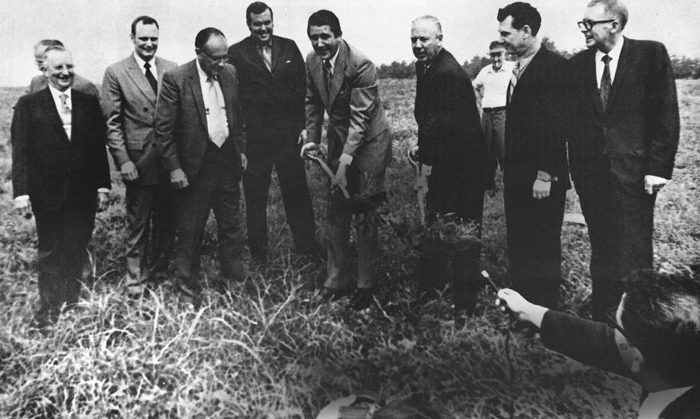 The Aug. 10, 1971 groundbreaking ceremony for Roane State attracted nearly 300 people and local, state and national dignitaries. Pictured are Governor Winfield Dunn (with shovel at left) and Congressman Joe L. Evins (with shovel at right). Looking on were from
left, former Education Commissioner J. Howard Warf, RSCC President Cuyler A. Dunbar, Education Commissioner E. C. Stinbert,
Gene Burney, president of Roane County Chamber of Commerce, Dale Boring of the Chamber of Commerce and Roane County
Judge J. Frank Qualls. Source: Harriman: The Town that Temperance Built by Walter T. Pulliam.
By Owen Driskill
Hand-in-hand, Cuyler Dunbar and his wife, Sandy, strolled through the field. Their steps swished softly as the overgrown grass brushed their legs. Their only companions were the cows grazing lazily.
The field was an empty, quiet patch of land off a country highway. Folks hunted quail there. The Dunbars paused and took stock of the field. Instead of seeing a pasture, they saw possibilities.
"I remember us, hand-in-hand, walking out across it and just thinking, 'You know, what have we gotten ourselves into. You're the president, of, what?' " Sandy said. "It's an empty field, but it was a field of dreams, and it's been so rewarding to see what has happened here."
Forty years after that stroll, the spot where the Dunbars stood is home to Roane State's main campus. The once quiet pasture bustles with students, and the little college that found a home in the field has blossomed in this region.
Life at Fairmont
Before the field, though, there was Fairmont. Roane State opened in temporary quarters at the former Fairmont Elementary School in Harriman in the fall of 1971. Life there, was, well, unique.
"My office for the library consisted of some books in boxes under a table, and I shared it with the business manager and a few other people who were in the office," said John Needham, the college's first librarian and a member of the so-called Dirty Dozen, the nickname for Roane State's first faculty and staff. "Lots of fun, lots of fun to meet those students. There weren't so many then, so you could get to know them very well and make good friends."
Faculty and staff scrambled to prepare Fairmont for college classes. Science labs were in the kitchen. Library books were in the cafeteria. Faculty and staff operated out of the trunks of their cars. Someone forgot to order wastebaskets, so everyone used cardboard boxes instead. Students, faculty and staff were piled in together.
It was great fun.
"We had to do some renovation," said Harold Underwood, chair of the Mathematics and Sciences Division and member of the Dirty Dozen. "In the meantime, we were trying to hire faculty. We were trying to put together curriculum. We were trying to locate furniture for students to sit on rather than sit on the floor.
"We had a great staff and really a great time. It was a challenge that I enjoyed."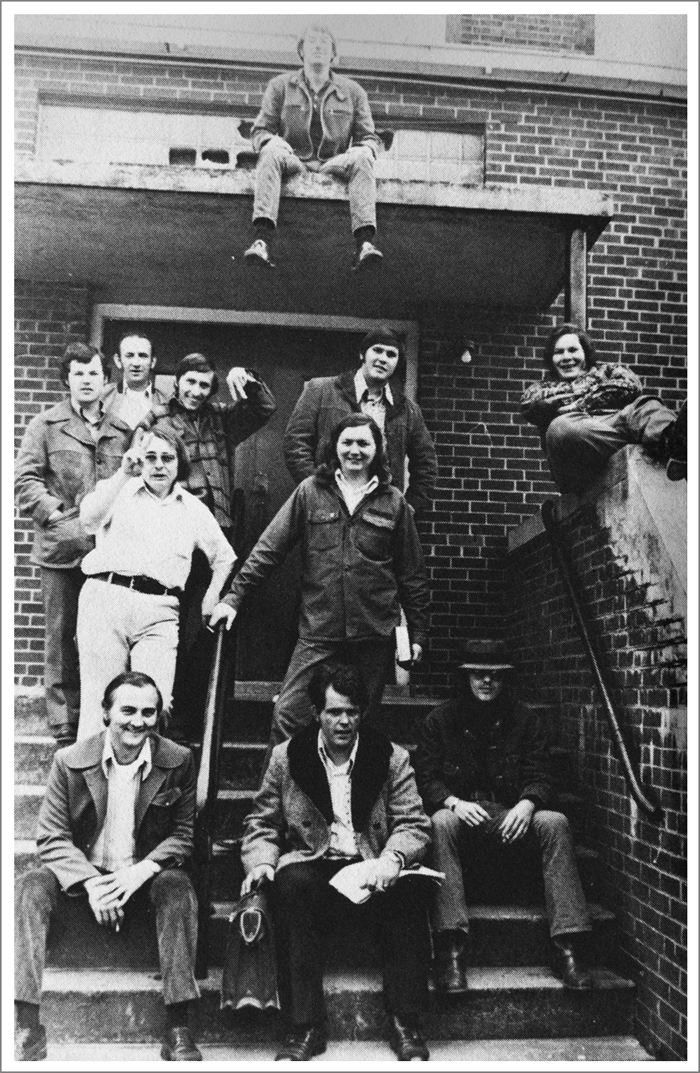 Students, faculty and staff developed close bonds during Roane State's early days at Fairmont Elementary School.
Roane State stayed in Fairmont for two years before moving to the main campus in 1973.
For students, life at Fairmont inspired a close relationship with faculty and staff. Dr. Dunbar, for example, served as the students' president, traffic coordinator and class-attendance enforcer.
"You had to get there real early to find a parking place, and if it was really bad, Dr. Dunbar was outside directing traffic," said Sammie Mowery, one of Roane State's first students. "You had to kind of watch when you got a drink of water because your skirt was too short, and the fountains were too short, too, until they got big boy and girl drinking fountains in the building. The library was in the cafeteria. The kitchen was the chemistry and biology lab. We had one room that was a lounge, and that's where everybody hung out. Everybody enjoyed it.
"If you weren't in class, Dr. Dunbar was liable to come up to you and say 'Why aren't you in class?' We all knew each other. We all enjoyed each other."
A Tradition of Excellence
Nancy Fisher, chair of the Humanities Division, said the students deserve credit for focusing on learning rather than their surroundings.
"Every freshman going off to college is scared," she said. "This was a new experience, and they did not know what to expect. Frankly, we didn't know what to expect either. It took a lot of nerve for a kid to start in a new school in an elementary classroom. They were there, and they were ready to learn, and it was wonderful. It really was."
Dr. Dunbar made it clear that he wanted a culture of rigor and excellence. As Mowery said, "He wanted everything to be the best. If you didn't do your best, you heard about it. He demanded excellence from everybody, and everybody knew that's what we were going to do."
The faculty and staff bought into the vision, and from the first days of Roane State, academic excellence was a priority.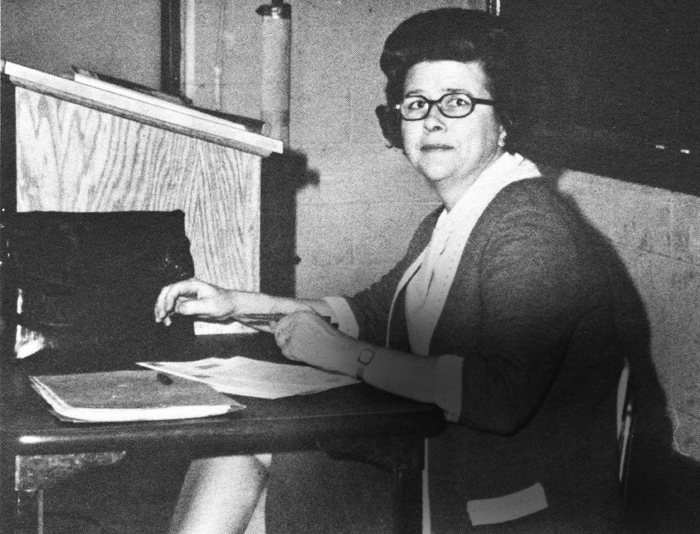 From Roane State's earliest days, faculty members such as Anne Minter set high standards.
"You don't accept sloppy work," said Anne Minter, a chemistry professor in those early days and later chair of Mathematics and Sciences. "You set a standard, not because you want to be mean, but because you want to help the students achieve the goals they have. The faculty all had to have this enthusiasm about building and building it right and building it better than somebody else has done before."
Dr. Dunbar said he wanted Roane State to be one of the strongest colleges in the state. For faculty and staff, his vision and the hustle and bustle of founding the college created an environment where ideas were heard and implemented, quickly.
"It was a great time," said W. Carroll Marsalis, chair of Technologies. "Dr. Dunbar had a vision, and he employed people that had a similar vision or could buy into his vision, and it was a great challenge. We accepted the challenge.
"You don't get a challenge like that every day. … Here was this unique opportunity to do your own thing, be as creative as you could be. You don't get that opportunity very often. It was a matter of seizing the moment. We did. We rolled up our sleeves together."
Biology professor Jim Kring said the administration's most common answer to suggestions was "go for it."
"We were able to do what we wanted to, to give them suggestions, and they said 'hey, go for it,'" Kring said. "They were too busy with other things, the development of the campus and hiring more faculty and as our student body kept increasing, then we just kept going and going and going just like an Energizer bunny.
"We just ran by the seat of our pants, I guess, because each day was different. We didn't know what was in store for us. That's what made it so exciting, because when you got up in the morning, and you thought you knew what you'd be doing here at Roane State, lo and behold, by the time you got through, you never dreamed that all these other things would have happened. I like change, and that was the best part of Roane State. Every year was different."
The commitment that drove the culture and the atmosphere, Marsalis said, was putting students first.
"That was number one," he said. "Probably number two was the fact that we all liked each other. Everybody was community-oriented, wanted to do something. With that as the focus and as the vision, we took off from there. The challenges were almost insurmountable at times, but it worked. You see the results."

A True Community College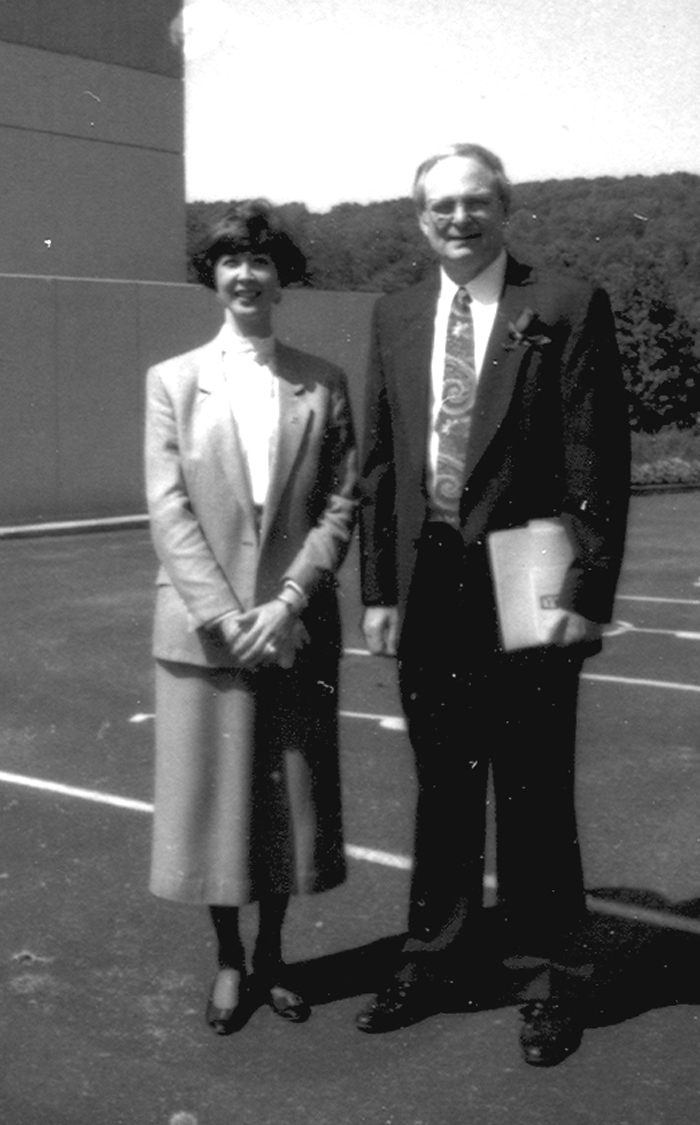 Dr. Hoppe and Dr. Dunbar
You see the results in that field where the Dunbars once strolled. The main campus, which opened in 1973, has grown to include four buildings, the Expo Center, and state-of-the-art technology. Thousands of students have walked the halls, listened to lectures or hunkered down in the library with a pile of anatomy and physiology books. Students from dozens of other countries have studied at Roane State, and Roane State students have studied abroad. Almost all area hospitals are staffed with Roane State-educated nurses. Roane State graduates are teachers, entrepreneurs, coaches, lawyers, artists, designers, doctors and more.
The college has expanded beyond the little field and into surrounding counties. In addition to the main campus, eight additional campuses provide access to higher education close to where students live and work. Roane State has locations in Campbell County, Cumberland County, Fentress County, Knox County, Loudon County, Morgan County, Oak Ridge and Scott County.
Dr. Sherry Hoppe, who succeeded Dr. Dunbar, was the force behind the expansion.
"You look at the remote rural areas where people were having to travel an hour, an hour-and-a-half, some of them crossing a time zone; some of them going up and down a mountain behind coal trucks, and so the vision just came," Dr. Hoppe said. "We needed to take higher education to people where they live and work instead of asking them all to drive to Roane County."
To get the campuses started, Roane State faculty and staff would travel to the community and start teaching. Hold classes in a strip mall? Sure. How about an old high school? Fine, let's go.
"We didn't have any money," Dr. Hoppe said. "The state was not funding satellite campuses. So we would have to go into the community and get enough donations even to pay the rent that first year. The communities wanted those campuses so badly, they would do whatever it took, whether it was raise money, donate materials, and then they supported it once those campuses got started in those leased facilities. One by one, we started raising money for permanent campuses. In almost all the cases, we raised anywhere from 75 percent to 100 percent of the dollars it took to build a very nice facility.
"I'll never forget the one in Loudon County. We went across some railroad tracks and lo and behold, we drove up, there was this old school building, windows knocked out. Harold Underwood was with me, and he said 'Dr. Hoppe, I don't think this is going to work.' But it did. We got the money, and we renovated, and it turned into a nice facility. Now they have a beautiful facility there (in Lenoir City)."
Renee Black, then Renee Broach, was one of the students who took classes in the old building in Loudon County.
"It was a beautiful old building, beautiful property," she said. "There were probably six or eight classrooms. We had some great teachers, and the faculty really cared about the students. I was just working a part-time job. It made it affordable for me to go ahead and go to school. I got to go to Roane State and graduate debt-free."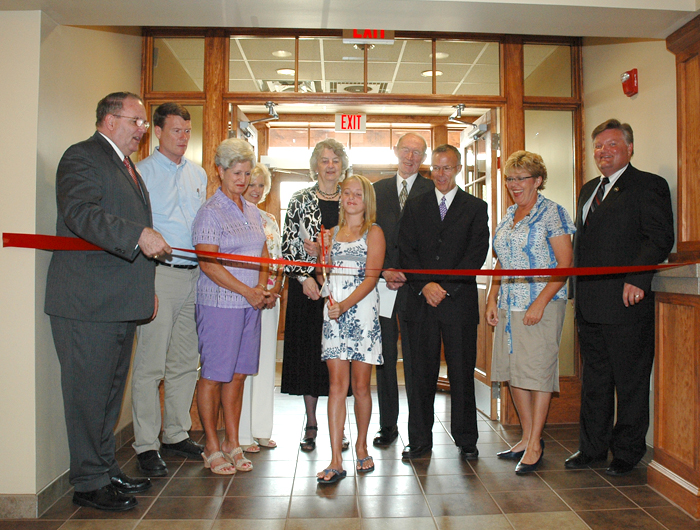 The Morgan County campus opened in 2008, completing the goal of having a permanent Roane State location in each community.
Black's comment is typical of how students feel about the Roane State campuses in their communities. For example, I always like to tell the story of my first visit to the Fentress County campus. It's Roane State's smallest location. To get there, you drive up to the Cumberland Plateau, and you keep driving and keep driving until you get to Jamestown. The campus has temporary buildings and wooden plank walkways. I asked a student if being there made him feel like a college student because it was not the stereotypical campus with lush greens, classic architecture and ivy-covered walls.
He looked at me like he might punch me in the nose. "This is my college," he told me, an edge in his voice. "This is where I'm getting my education."
I don't ask that question anymore.
Similar remarks from students over the years show their pride and appreciation for the expansion that Dr. Hoppe envisioned and that faculty and staff made into a reality.
"The education here has been wonderful. The staff here works great with you. The teachers will help you out. For that opportunity to be available, there are not words to describe it. It's definitely a great learning experience."
— Craig Bolton, Campbell County campus, 2010
"Roane State has been home. People care about you. You are not just a number. Students help each other through difficult subjects. It's a very giving environment."
— Kimberly Cherry-Mulick. Cumberland County campus, 2008
"I didn't want to go directly to a four-year college. If you start at Roane State, the transition is easier on you. This has eased me into knowing what college is like. There are small class sizes, and the relationship with the students and professors is good. I've always been told that your education is something that cannot be taken away from you and to strive to get your education. That's another good reason I'm going to school — because your education cannot be taken away from you."
— Dustin Beaty, Fentress County campus, 2012
"I got to stay near my family and get college experience. Everybody at Roane State is friendly. It's not a giant school so you can't get lost." — Sidney Hayes, Loudon County, 2010
"Having a campus here has made everything so much easier. Without it, it would have been impossible for me to do this."
— Tammy Shannon, Morgan County campus, 2008
"I was scared to death. I'm thinking 'I've been married longer than these kids have been in this world. Roane State is great. They make you feel comfortable. They are just wonderful people."
— Jaimi Lloyd, Scott County campus, 2011

Bursting with Pride
For Roane State, expansion never stops. The college is a player in economic development, healthcare, high-tech industries and more. Roane State operates the Princess Theatre and Channel 15 television station in downtown Harriman and works with dozens of partners to educate students for 21st century jobs.

Still, with all the advancements, Roane State's value is best measured in its students and the lives that they have gone on, and will go on, to lead.

Thousands have graduated, each with their own story. Thousands more will find inspiration and direction at Roane State in the next 40 years. Trying to quantify what Roane State has meant, when considering the positive contributions of the thousands of students Roane State has served, is as daunting as climbing Walden Ridge in a snowstorm.

"There's a dual feeling," Dr. Dunbar said as he considered the results of what started in that little pasture, all those years ago. "One, I'm bursting with pride. And secondly, I feel so insignificant in what all has happened in all these years with this institution. I'm just so proud of what's happened."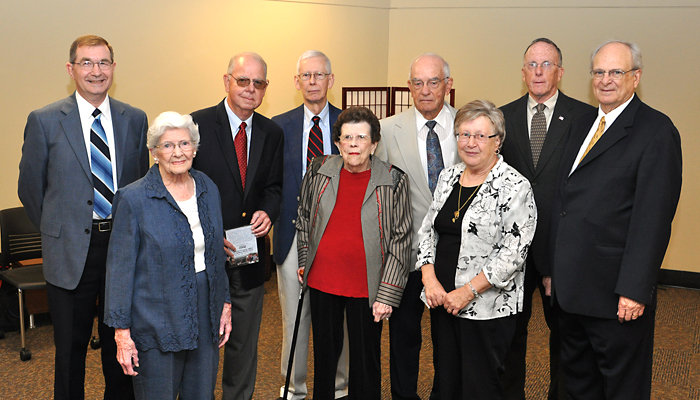 Members of The Dirty Dozen, 40 years later: Early members of Roane State's faculty and staff are listed with their initial role with the college. Front, from left, are Helen Randolph (chemistry professor), Anne Minter (chemistry professor) and Nancy Fisher (chair, Humanities). Back row, from left are Bill Murray (mathematics professor), W. Carroll Marsalis (chair, Technologies), John Needham (librarian), Harold Underwood (chair, Mathematics and Sciences), Jim Kring (biology professor), and Dr. Cuyler Dunbar (the college's first president).