Telescope Making
Telescope making/mirror grinding is a hands-on activity for everyone (students, amateur astronomers and visitors).
Roy Morrow used James Nolan's camera to capture a beautiful image of the Dumbell Nebula (a planetary nebula from an exploded star). I took a photo of it with my cell phone and it looked like this: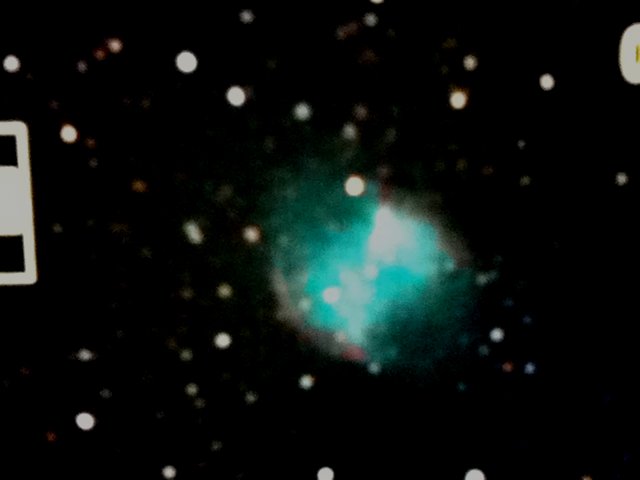 The scope camera had a better image, but I took this one with my iPhone. One can see the remaining white dwarf star at the center of the Dumbell.
May 6 was a busy evening, as we entertained the students and parents at Linden School in Oak Ridge, at their new amphitheater. Saturn and Luna were excellent targets. What a nice group of people! We had 6 telescopes and several hundred observers.
In truth, there were 2 Saturns, but the first one had wheels and rolled away. The second had beautiful rings and a prominent moon, and delighted the crowd.
Recent (Nov. 2013) astrophotography by Shawn Harrison was displayed in real time on the TAO Mobile Solar Observatory rear-screen projector: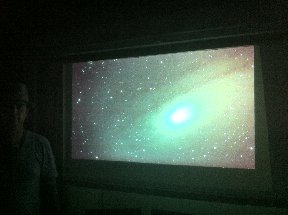 Along with decoding the "Enigma" poem by Galileo, we found this in the sky (telescope work at TAO on April 2 showing M1 through the 12" Meade by UJ and DR):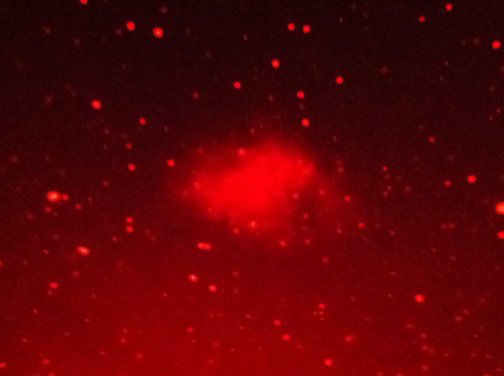 That's the photo of the Crab Nebula 6000 LY distant, at the start of history according to the young earth guys. That light has been traveling for 6000 years. How about the more distant objects? The light has been traveling a lot longer. The actual image is better since you're seeing a CCD image rendered on a monitor, covered by a filter, captured by a handheld iphone camera, resized, transmitted rendered in your monitor, etc.
We discussed whether Galileo could have seen the Crab Nebula in beautiful skies Italian without light pollution, about the year 1535. He saw and wrote extensively about Saturn. The answer is perhaps yes.
We looked at some astrophotos, including those by local people (e.g., as in the photo above, taken just before the hard drive filled up). Skies provided great visibility, but seeing near the horizon was bad because of the turbulence.
Bring telescopes, red flashlights, astronomy gadgets and cookies. The evening will offer opportunities for viewing and Luna (with craters), and Jupiter with 3-4 nearby moons.
Expect Stargazes on the first and third Saturday evenings of each month. Amateur astronomers bring telescopes and binoculars and offer views of astronomical objects, while visitors are invited to bring their telescopes, questions and cookies to share with the astronomers.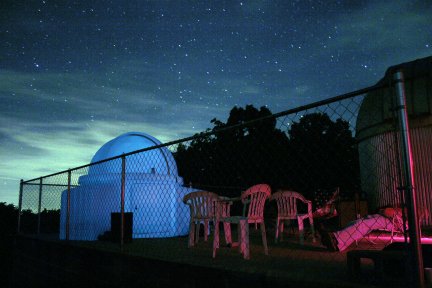 ...............................................................
Here's a gazing ball image from 5/19. Note the heavy light pollution along the horizon and illumination of the classroom by the light trespass (click for full size image). This is a 11 PM photo and the light pollution prevents viewing around the horizon.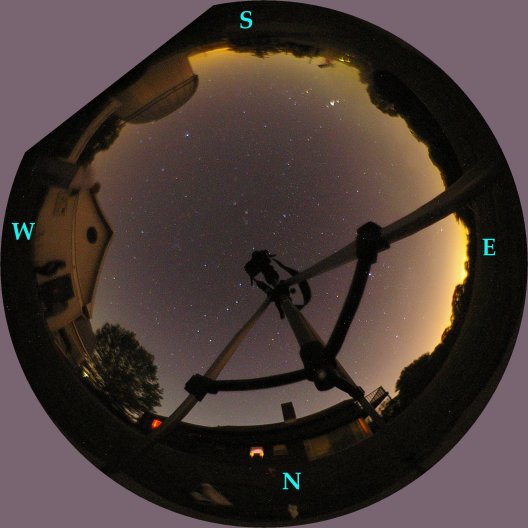 Tamke-Allan Observatory of Rockwood is a treasure of Roane County. It hosts free Public Stargazes on the first and third Saturday evenings of each month. These stargazes have opened the night skies, free of charge to everyone, for the past 10 years. Amateur astronomers bring telescopes and binoculars and offer views of astronomical objects, while visitors are invited to bring their questions and cameras and meet the astronomers. Kids are especially welcome.
Too much light causes glare – a hazard on our highways. Directing light downward where it is needed conserves energy and gives us a safer, more secure community. It also keeps our observatory open for education and research. When was the last time that you could see our beautiful milky way? We are losing our Roane County Heritage in the glare of unshielded lights.
Star Party Etiquette
* Bring a red flashlight and avoid using any white light after dark.
* Get to know the lighting controls for your vehicle and ensure as little white light as possible shines from your vehicle. If you cannot control the lights, choose to park as far away from the telescopes as practical.
* Carefully enter the observing location. Speeding into a parking area full of telescopes and observers is a recipe for an accident.
TAO Academic Associates are Colleges, Universities and other educational institutions that have both faculty and students that share research and scientific goals. The emphasis is not just scientific -- this is a humanistic endeavor that encourages both cultural exchange and critical thinking.
Our Associate Groups: