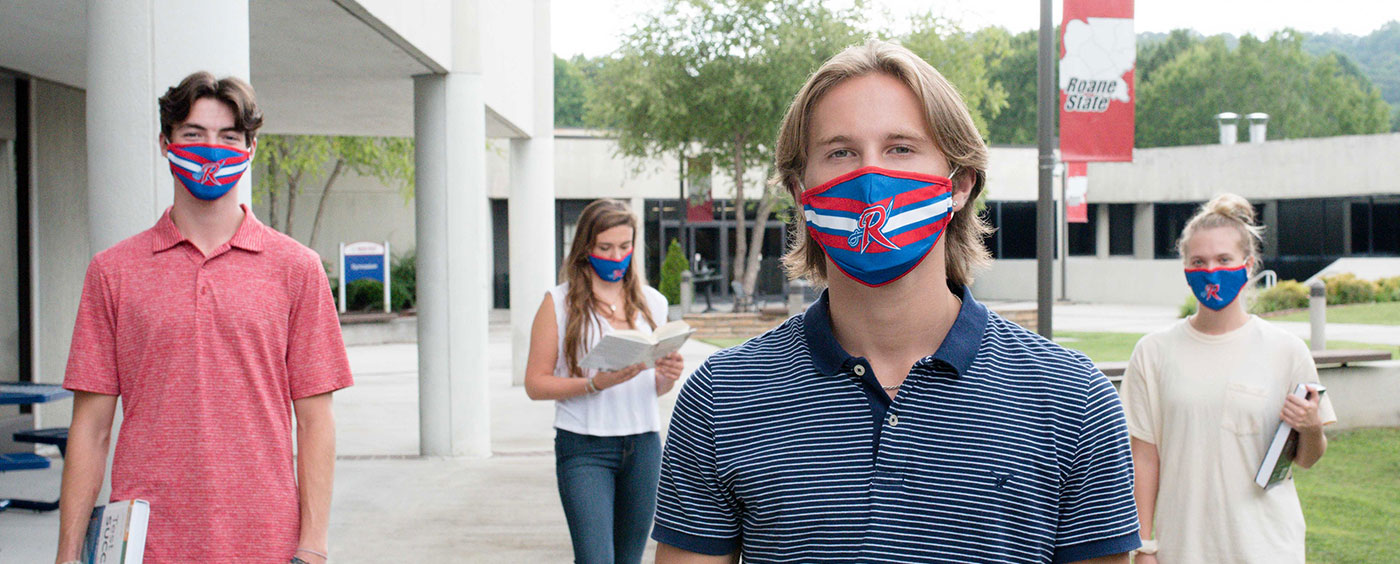 Pandemic Preparedness Plan Status: Level 2
Campuses are open. Procedures for accessing campus are posted at roanestate.edu/reopening. RSCC is following CDC guidelines along with the Tennessee Pledge and state requirements. The latest information and resources can be found below.
WHAT'S THE LATEST?
Roane State has launched an online COVID-19 case reporting dashboard to share the latest information with the campus community. The new tool, available at roanestate.edu/COVIDreport, will be updated at least weekly to include active and recovered cases reported through the college's online portal. The case data is broken down by campus location.
Cases shown on this dashboard will only include positive cases that have been on a Roane State campus during a period of time when the individual might have been contagious. Positive reports from students, faculty and staff who are learning or working remotely will not be included on the dashboard unless they have visited a campus.
Please note that the college's contact tracing protocol remains unchanged. Those who report a positive test result will be advised of their recommended isolation timeline per CDC and health department guidance. Any individual who may have been in close contact with a positive case on campus will be notified directly by an RSCC staff member for possible quarantine.
Roane State will continue to communicate important information to the campus community outside of the case reporting dashboard using email, RaiderAlerts, social media, and news releases to local media outlets. These updates will include any necessary campus/building closures, changes in campus access procedures and other events with significant impacts.
Current case numbers from all Tennessee Board of Regents system colleges, including Roane State, are also available online through the TBR COVID-19 case reporting dashboard. Please note that numbers may differ between these two dashboards due to varied reporting timelines and TBR's inclusion of off-campus cases.
Information on campus safety procedures during the Fall 2020 semester can be found at roanestate.edu/reopening. Anyone who comes to campus is required to complete a wellness screening each day of their visit. The screening can be accessed at roanestate.edu/checkup. On campus classes will also incorporate face covering requirements, physical distancing, and frequent cleaning of facilities. Additional web sections have been added to accommodate increased interest in online courses.
For more information on Roane State's continued response to COVID-19 or plans for the fall semester, please email questions@roanestate.edu.
UPDATED RESPONSE TIMELINE
On March 23, 2020, Roane State closed all campuses following an extended spring break and migrated most classes to an online format in response to the coronavirus pandemic. Campuses remained closed through April 30 in accordance with the State of Tennessee's Safer-at-Home order. Only a small number of essential personnel were permitted on campus during this time. The majority of college employees continued their work remotely.
On May 4, 2020, (following the expiration of the Safer-at-Home order), limited access on four campuses began so that programs could complete required in-person skills testing. The limited access locations included Roane County, Oak Ridge, Knox and Clinton.
On June 24, 2020, Roane State outlined its phased reopening plan for the remainder of the summer term and leading into fall. The final phase (return to normal business hours/end of summer schedule) was implemented on August 3, 2020.
Classes for the Fall 2020 semester began on Wednesday, August 19. If the pandemic worsens in our area, the majority of in-person classes may be transitioned to an online environment. The health and safety of our campus communities and the broader communities we serve are the top priority.
RESOURCES FOR ONLINE LEARNING
For students with questions about online learning and student services, please review our Guide to Going Online and our student communication page.
You can also visit our resource pages on Distance Education and Momentum (or D2L) for more information. Students and faculty may login to Momentum at the following link: https://elearn.roanestate.edu/d2l/login. If you are facing a challenge continuing your classes online, email need@roanestate.edu and we will do our best to help you find a solution.
GENERAL RESOURCES DURING THE PANDEMIC
Any member of the Roane State community can email need@roanestate.edu if they have an immediate need during the coronavirus pandemic such as food, transportation, childcare, and internet/computer access. While Roane State may not be able to assist directly with every request, we will connect students, staff, faculty and their families with local resources whenever possible.
WHAT YOU SHOULD BE DOING
As with any contagious illness, please follow safety recommendations from health officials, including:
Clean your hands often with soap and water for at least 20 seconds
Use hand sanitizer (with at least 60% alcohol) to clean your hands if soap and water aren't available
Put distance (at least 6 feet) between yourself and others outside of your home
Wear a face mask or cloth face covering if you come to campus or go out in public
Avoid touching your eyes, nose and mouth with unwashed hands
Avoid close contact with people who are sick
Stay home if you're sick (except to get medical care)
In private settings when not wearing your face covering, be sure to still cover coughs and sneezes with a tissue or the inside of your elbow
Clean and disinfect frequently touched items and surfaces daily
We will continue to pass along additional information over the coming days and weeks regarding COVID-19 and our response, so please check your Roane State email regularly and monitor this webpage. Please also sign up for RaiderAlerts and follow our social media accounts @RoaneState on Twitter and Facebook.
Visit the links below for up-to-date information from the CDC and the Tennessee Department of Health about the virus.
PUBLIC HEALTH AND SAFETY INFORMATION
ADDITIONAL RESOURCES