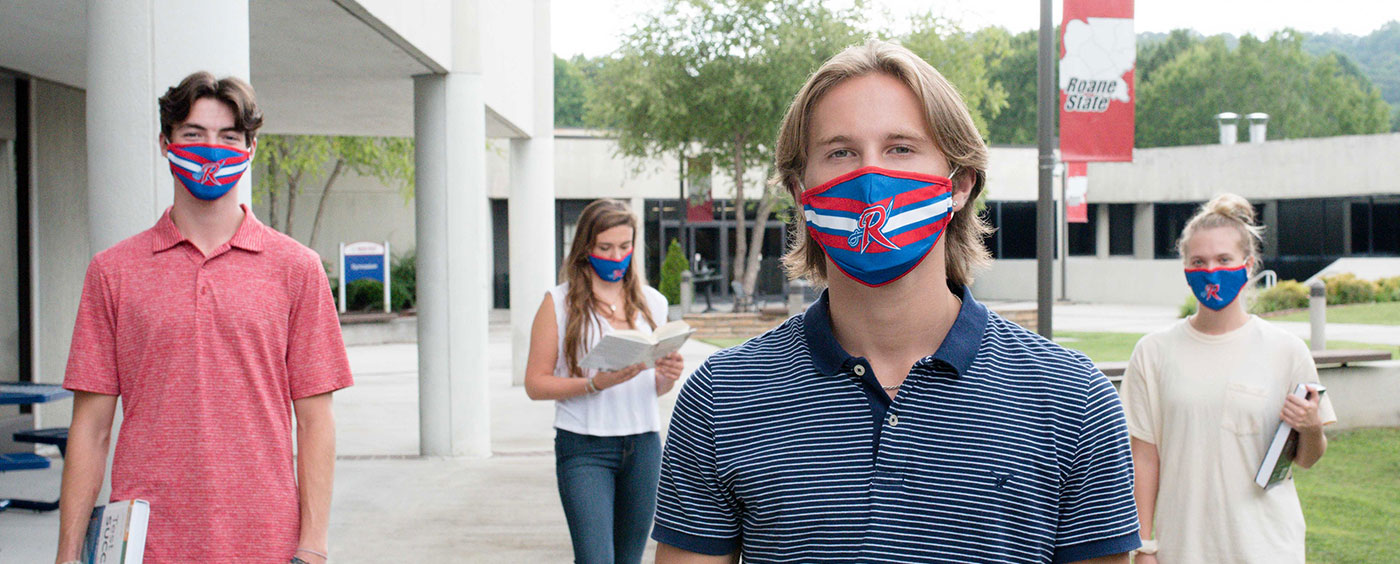 Pandemic Preparedness Plan Status: Level 2
Campuses are open. Procedures for accessing campus are posted at roanestate.edu/spring2021. RSCC is following CDC guidelines along with the Tennessee Pledge and state requirements. The latest information and resources can be found below.
WHAT'S THE LATEST?
Roane State Community College, in partnership with the Free Medical Clinic of Oak Ridge, is planning a two-part vaccination clinic at its Oak Ridge Branch Campus for Roane State students and employees. The first clinic is scheduled for Wednesday, April 28, 2021, from 9 a.m. until 3 p.m. ET and will provide the first dose of the Moderna vaccine to participants. Appointments are available for students and college employees by visiting roanestate.edu/vaccine.
The clinics will be held in a drive-through format. Participants should follow signage posted on campus and can stay inside their vehicles the entire time. After the first shot is administered, participants will automatically be scheduled to receive their second dose of the vaccine on Wednesday, May 26, 2021. Participants will have the same appointment time at both clinics. Reminders about the second dose will be send by text message and/or email. There is no cost associated with receiving the vaccine at these clinics.
PLANS FOR FALL 2021
Roane State recently announced that tentative plans for Fall 2021 are focused on getting students safely back on campus. The goal is to provide an increased sense of normalcy with more activities, more in-person services and, of course, more students in the classroom. All of this will be done with safety top of mind. Face masks, social distancing, daily wellness screenings, cleaning of facilities, and other COVID-19 precautions will remain in place.
Please note that if pandemic circumstances change, the college will adjust its plans as needed. Local conditions and the latest public health recommendations will be taken into account throughout the planning process. More information on the Fall 2021 plan is forthcoming. Watch RSCC email as well as this page for updates. You can also email questions@roanestate.edu with any questions or concerns.
ADDITIONAL COVID-19 VACCINATION INFORMATION
As COVID-19 vaccinations continue to be administered around the country, the CDC has issued updated guidance regarding quarantine for fully vaccinated individuals. According to the new information, vaccinated persons with an exposure to someone with suspected or confirmed COVID-19 are not required to quarantine if they meet the following criteria:
Are fully vaccinated (i.e., ≥2 weeks following receipt of the second dose in a 2-dose series, or ≥2 weeks following receipt of one dose of a single-dose vaccine)
Are within 3 months following receipt of the last dose in the series
Have remained asymptomatic since the current COVID-19 exposure
Persons who do not meet all 3 of the above criteria should continue to follow current quarantine guidance after exposure to someone with suspected or confirmed COVID-19.
As a reminder, even those who have been fully vaccinated should continue to honor the Roane State Pledge by wearing a mask on campus, maintaining proper social distance from others, completing their daily wellness screening before coming to campus, self-reporting a positive test result and staying home if they feel sick.
The State of Tennessee has rolled out new COVID-19 resources, including detailed information on the vaccine as well as a quick and easy online method for determining your vaccine distribution phase. The eligibility tool also lets you sign up for alerts when your phase is activated in the county where you live. Visit covid19.tn.gov/covid-19-vaccines/eligibility/ to find out your phase.
COVID-19 CASE REPORTING
As part of continued efforts to share important pandemic information with the campus community, Roane State launched an online COVID-19 case reporting dashboard during the fall semester. The tool, available at roanestate.edu/COVIDreport, is being updated at least weekly to include active and recovered cases reported through the college's online portal. The case data is broken down by campus location.
Cases shown on this dashboard will only include positive cases that have been on a Roane State campus during a period of time when the individual might have been contagious. Positive reports from students, faculty and staff who are learning or working remotely will not be included on the dashboard unless they have visited a campus.
Please note that the college's contact tracing protocol remains unchanged. Those who report a positive test result will be advised of their recommended isolation timeline per CDC and health department guidance. Any individual who may have been in close contact with a positive case on campus will be notified directly by an RSCC staff member for possible quarantine.
Roane State will continue to communicate important information to the campus community outside of the case reporting dashboard using email, RaiderAlerts, social media, and news releases to local media outlets. These updates will include any necessary campus/building closures, changes in campus access procedures and other events with significant impacts.
Current case numbers from all Tennessee Board of Regents system colleges, including Roane State, are also available online through the TBR COVID-19 case reporting dashboard. Please note that numbers may differ between these two dashboards due to varied reporting timelines and TBR's inclusion of off-campus cases.
Until further notice, anyone who comes to campus is required to complete a wellness screening each day of their visit and wear a face covering on campus. The screening can be accessed at roanestate.edu/checkup. On campus classes will also incorporate face covering requirements, physical distancing, and frequent cleaning of facilities.
For more information on Roane State's continued response to COVID-19 or plans for the fall semester, please email questions@roanestate.edu.
UPDATED QUARANTINE TIMELINE GUIDANCE
During the week of December 7, 2020, Roane State began implementing a new protocol for quarantine timelines. Per updated guidance from the CDC, health departments in our service area recently opted to reduce the recommended quarantine period to 10 days for those without symptoms. This is down from the previous recommendation of 14 days.

Roane State is now advising employees and students to quarantine for at least 10 days following exposure to a positive case of COVID-19. Again, the reduced quarantine option only applies to individuals who have not experienced symptoms.

Please also note that a negative test is not required to end your quarantine after the 10-day period, but you are still advised to monitor for possible symptoms of COVID-19 for the full 14 days. If you develop symptoms, you should stay home and away from others (except to seek medical care if needed).
RSCC'S COVID-19 RESPONSE TIMELINE
On March 23, 2020, Roane State closed all campuses following an extended spring break and migrated most classes to an online format in response to the coronavirus pandemic. Campuses remained closed through April 30 in accordance with the State of Tennessee's Safer-at-Home order. Only a small number of essential personnel were permitted on campus during this time. The majority of college employees continued their work remotely.
On May 4, 2020, (following the expiration of the Safer-at-Home order), limited access on four campuses began so that programs could complete required in-person skills testing. The limited access locations included Roane County, Oak Ridge, Knox and Clinton.
On June 24, 2020, Roane State outlined its phased reopening plan for the remainder of the summer term and leading into fall. The final phase (return to normal business hours/end of summer schedule) was implemented on August 3, 2020. Classes for the Fall 2020 semester began on Wednesday, August 19.
Roane State Community College temporarily moved to remote operations January 4-8, 2021, in order to reduce the number of people coming to campus immediately following the holidays. This schedule change was made as part of our efforts to prevent the spread of COVID-19 on campus. Campus check-ins resumed on Monday, January 11, 2021.
As an additional precaution, RSCC employees who are able to continue their work from home beyond January 11 are encouraged to do so until further notice. Employees should work through their supervisor to determine the need for campus access. Please note that all campuses will be open on their normal schedule and screeners will be in place at all facilities for check-in just as they were during Fall 2020.
One Stop offices in Roane County and Oak Ridge transitioned to virtual operations on Monday, February 1, 2021, and will remain in remote status until further notice. Students can connect with One Stop staff by phone, email, Zoom and live chat during remote operations. In-person One Stop services are still available at RSCC satellite campuses.
If the pandemic worsens in our area, the majority of in-person classes may be transitioned to an online environment. The health and safety of our campus communities and the broader communities we serve are the top priority.
RESOURCES FOR ONLINE LEARNING
For students with questions about online learning and student services, please review our Guide to Going Online and our student communication page.
You can also visit our resource pages on Distance Education and Momentum (or D2L) for more information. Students and faculty may login to Momentum at the following link: https://elearn.roanestate.edu/d2l/login. If you are facing a challenge continuing your classes online, email need@roanestate.edu and we will do our best to help you find a solution.
GENERAL RESOURCES DURING THE PANDEMIC
Any member of the Roane State community can email need@roanestate.edu if they have an immediate need during the coronavirus pandemic such as food, transportation, childcare, and internet/computer access. While Roane State may not be able to assist directly with every request, we will connect students, staff, faculty and their families with local resources whenever possible.
WHAT YOU SHOULD BE DOING
As with any contagious illness, please follow safety recommendations from health officials, including:
Clean your hands often with soap and water for at least 20 seconds
Use hand sanitizer (with at least 60% alcohol) to clean your hands if soap and water aren't available
Put distance (at least 6 feet) between yourself and others outside of your home
Wear a face mask or cloth face covering if you come to campus or go out in public
Avoid touching your eyes, nose and mouth with unwashed hands
Avoid close contact with people who are sick
Stay home if you're sick (except to get medical care)
In private settings when not wearing your face covering, be sure to still cover coughs and sneezes with a tissue or the inside of your elbow
Clean and disinfect frequently touched items and surfaces daily
We will continue to pass along additional information over the coming days and weeks regarding COVID-19 and our response, so please check your Roane State email regularly and monitor this webpage. Please also sign up for RaiderAlerts and follow our social media accounts @RoaneState on Twitter and Facebook.
Visit the links below for up-to-date information from the CDC and the Tennessee Department of Health about the virus.
PUBLIC HEALTH AND SAFETY INFORMATION
ADDITIONAL RESOURCES