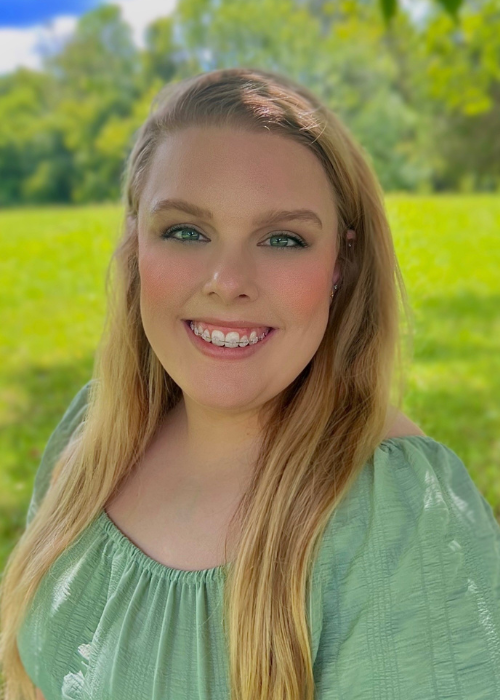 October 24, 2023
By Deborah Robbins, Roane State staff writer
Since graduating from Roane State this past spring, Shelby Bledsoe has been hard at work applying her computer programming skills in the real world at the Institute for Advanced Composites Manufacturing Innovation (IACMI).
Headquartered in Knoxville, IACMI is a 130-plus member community of industries, universities, national laboratories, and government agencies working together to accelerate the development and adoption of innovative manufacturing technologies for low-cost, energy efficient advanced composites.
Bledsoe obtained her Associate of Applied Science in Computer Information Technology with a concentration in programming while at Roane State.
"I feel like my time at RSCC helped me with my time management and attentiveness," Bledsoe said. "With the programming concentration, it forced me to be more organized and productive, which I have used to transition into my position easier."
While serving as a workforce development intern at IACMI, she has been tracking and leading database management for the institute's numerous workforce programs that focus on education, training, and scaling up advanced manufacturing skills to meet national manufacturing needs.
Data accuracy is vital as IACMI leverages it in its reporting to industry members and federal government partners, like the U.S. Departments of Energy and Defense.
Bledsoe also shared that she's always had a fondness for STEM, and composite technology has caught her eye before.
"This opportunity is extremely rewarding because this internship is full circle for me. I had a background in composites from my time at the University of Tennessee Knoxville where I was studying to become a material science engineer," Bledsoe explained. "When I ended up changing my career path to computer programming, I didn't know that I would ever get to align my knowledge from both to one position. Because of this internship, I can use my degree and knowledge of composites to further my career."
Introduced to the IACMI opportunity by Roane State Professor George Meghabghab, through the college's partnership with the institute, it all came together for Bledsoe.
"Our computer information technology (CITC) students are trained with a wide array of skills," Meghabghab said. "Shelby is a programming graduate which encompasses software development, including simulating applications in Android and Apple environments. Add to that her great interest in cyber defense and harnessing the latest in the Cybersecurity Maturity Model Certification (CMMC) of the U.S. Department of Defense, I am not surprised that IACMI considers her their top intern."
"Data management and analytics is critical to workforce planning and measuring progress across our programs," said Joannie Harmon, vice president of workforce development at IACMI. "Shelby has made an immediate impact applying her technical proficiency with software skills to help IACMI and our affiliated workforce programs use data more effectively."
Bledsoe will be continuing the internship opportunity through December 2023.
Information on the college's Computer Information Technology program is available at roanestate.edu/citc.
Roane State also has many different internship opportunities available to students and graduates. To learn more, visit the RSCC Placement Office online at roanestate.edu/placement.