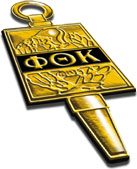 Meetings
The Roane State chapter of Phi Theta Kappa, the international honor society for two-year colleges, has meetings through Zoom on Fridays. Members and students interested in becoming members, are welcome. For further information or a link to attend a meeting, contact Claudia Cummings. Middle college, traditional, and non-traditional students are all welcome. Requirements include 12 complete credit hours and a 3.5 cumulative GPA.
Projects
Find a PTK (Phi Theta Kappa Honors Society) rock and turn it in to the front desk at Oak Ridge or the Onestop at Harriman to redeem your FREE Combo Meal from Wendy's and PTK!

Find a ROANE STATE rock and turn it in to the front desk at Oak Ridge, or the Onestop at Harriman to redeem your FREE Frosty Jr. from Wendy's and PTK!
Find a rock with both logos and win both prizes! (Rocks pictured above are only a sample. Rocks will vary.)

Honors in Action Project: How do medical care and other care facilities utilize play in their environments to reach the needs of patients and care recipients?
College Project: helping students overcome obstacles in order to stay in school, and fostering a sense of community at Roane State.
November 5th, 2022, Fall Festival, Car Show, and Corn Hole Tournament - Oak Ridge Campus 10am- 2pm ET. FREE ADMISSION and Door Prizes!
Alumnus Project: Stay in touch with past members, let others stay in contact with you, and visit a tribute to past officer teams and members at the Harriman campus on the PTK Board, in the Dunbar building.
The iRaider Student Success handbook is available to assist with questions you may have regarding your experience at Roane State. You can view the video or pick up a hard copy from One Stop or from your Success Coach.
The Beta Alpha Chi Experience
Mission
"The purpose of Phi Theta Kappa shall be to recognize and encourage scholarship among two-year college students. To achieve this purpose, Phi Theta Kappa shall provide opportunity for the development of leadership and service, for an intellectual climate for exchange of ideas and ideals, for lively fellowship for scholars, and for stimulation of interest in continuing academic excellence." Phi Theta Kappa's mission is two-fold: 1) recognize and encourage the academic achievement of two-year college students and (2) provide opportunities for individual growth and development through participation in honors, leadership, service, and fellowship programming.
Current PTK Officers
2022-23 Officer Team
Lydia Luna, Megan Miller, Connor Melton, Leah Cobble, Donna Lones, Gracia Robo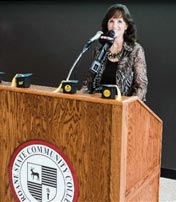 Chapter Advisor, Claudia Cummings
Previous PTK Officers
2021-22 Officer Team

Deborah Porter, Kayla Koper, Lydia Luna, William "Brent" James, Donna Lonas, and Savannah Mahery.
2020-21 Officer Team
Valerie Bailey, Dusty Prater, Deborah Porter, Alyssa Linder, Linda "Lee" McFall, Kayla Koper, and Karlie Sikorski.
2019-20 Officer Team

Valeri Bailey, Kyle Keck, Anna McClure, Suzanne Huffman, Scarlett Self, Jason Wasilewski, and Wesley Overton.