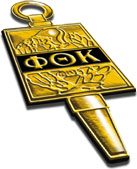 "The purpose of Phi Theta Kappa shall be to recognize and encourage scholarship among two-year college students. To achieve this purpose, Phi Theta Kappa shall provide opportunity for the development of leadership and service, for an intellectual climate for exchange of ideas and ideals, for lively fellowship for scholars, and for stimulation of interest in continuing academic excellence."
Phi Theta Kappa's mission is two-fold: 1) recognize and encourage the academic achievement of two-year college students and (2) provide opportunities for individual growth and development through participation in honors, leadership, service and fellowship programming.
Phi Theta Kappa International Honor Society
Meetings
The Roane State chapter of Phi Theta Kappa, the international honor society for two-year colleges, has meetings on Fridays at the Oak Ridge Campus in Goff 104. Members and students interested in becoming members, are welcome. For further information contact Claudia Cummings.
© Roane State Community College
Roane State Community College is a TBR and AA/EEO employer and does not discriminate against students, employees, or applicants for admission or employment on the basis of race, color, religion, creed, national origin, sex, sexual orientation, gender identity/expression, disability, age, status as a protected veteran, genetic information, or any other legally protected class with respect to all employment, programs and activities sponsored by Roane State. View full non-discrimination policy.