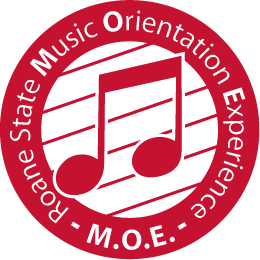 Music Orientation Experience (MOE) is a club for all students interested in or currently participating in Roane State music classes and events, regardless of major. The focus of the club is to promote a broad musical, cultural, social, and service experience within the college and community including involvement and promotion of RSCC Music Department events. MOE regularly attends off campus performances, participates in community service projects, hosts RSCC alumni transfer representatives, and gathers for social events.
Officers
President: Bethany Brock
Vice President: Matthew Wilkey
Faculty Sponsor: Brenda Luggie
Scheduled Meetings
In an effort to reduce time on campus, Fall 2020 meetings are held during Solo Class (music majors) each week. Anyone outside of the class who is interested in participating should contact Brenda Luggie at luggieb@roanestate.edu for more information.
© Roane State Community College
Roane State Community College does not discriminate on the basis of race, color, religion, creed, ethnicity or national origin, sex, disability, age, status as protected veteran or any other class protected by Federal or State laws and regulation and by Tennessee board of Regents policies with respect to employment, programs, and activities.​​​​​​​ View full non-discrimination policy.