Student Government Association (SGA)
2022-2023 SGA Elections, April 4-15, 2022
Vote HERE!
2021-2022 SGA Officers
President- Matthew Harvey
Vice President- Deborah Porter
Secretary- Maggie Porter
Senator- Andrew Kingsolver
Senator- Kamryn Overturf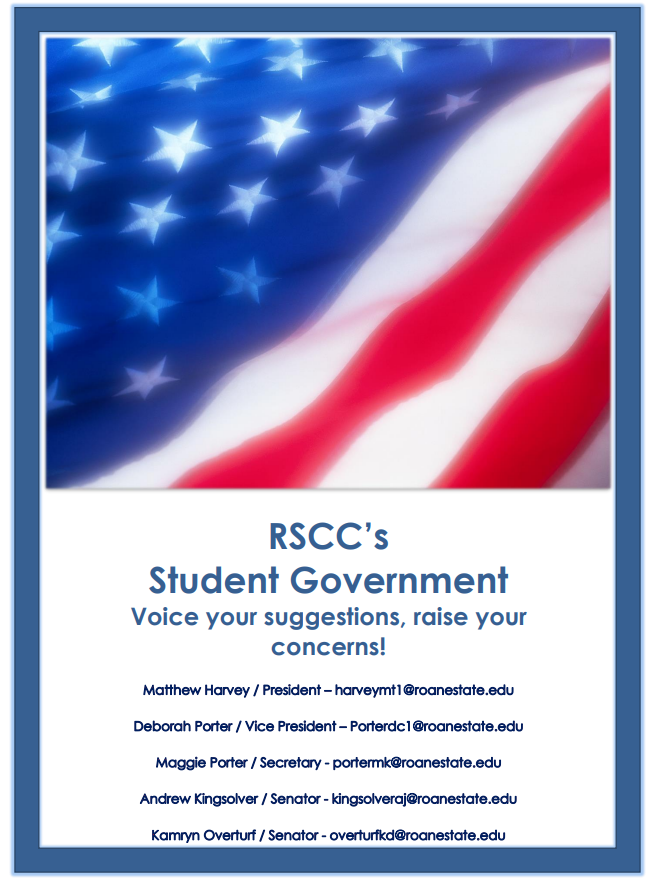 Current Meeting Schedule
January 14, 2022 4:00pm est
February- TBD
March- TBD
April 4-15, 2022-2023 Elections
Current Projects
Graduation Goody Bags for 2022 RSCC graduates.
Student Government Association Constitution
SGA and Campus Activities Board Application
© Roane State Community College
Roane State Community College does not discriminate on the basis of race, color, religion, creed, ethnicity or national origin, sex, disability, age, status as protected veteran or any other class protected by Federal or State laws and regulation and by Tennessee board of Regents policies with respect to employment, programs, and activities.​​​​​​​ View full non-discrimination policy.