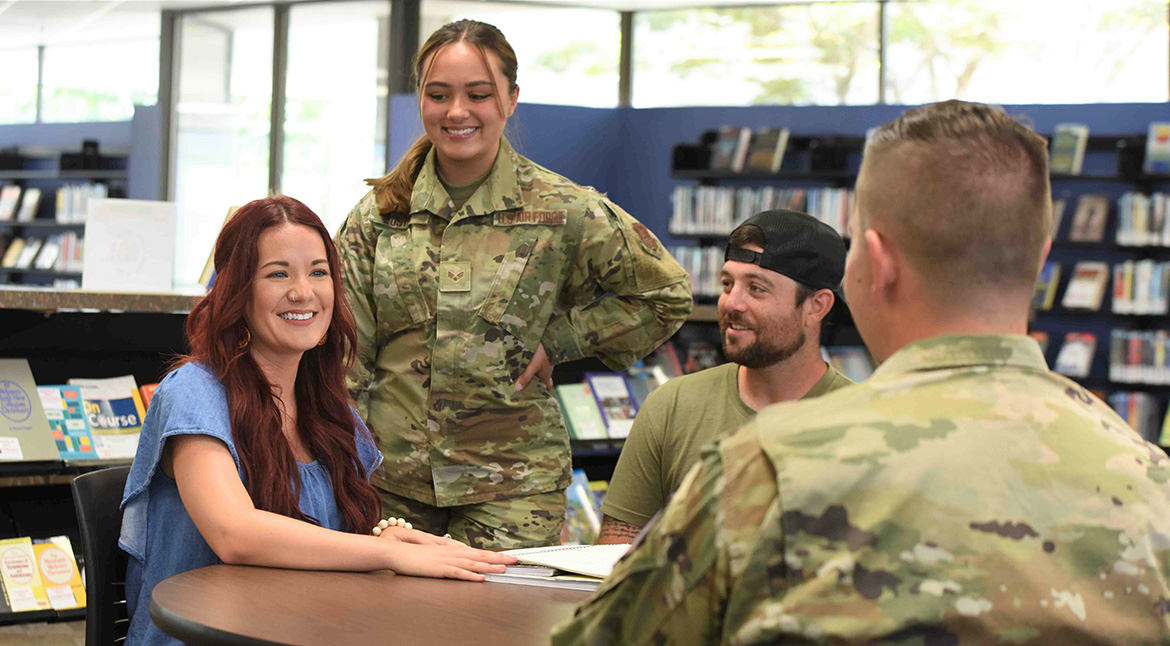 Getting Started
If you have applied to the college and received a RaiderNet account, please submit a Request for Certification as soon as possible so Roane State Veteran Services can help you with obtaining and utilizing your earned GI Bill® educational benefits and achieve your educational goals. You will be prompted to enter your RSCC (RaiderNet) username & password.
If you are not yet received a RaiderNet account, create a Dynamic Forms account, and submit a Request for Certification form. Please remember this username and password as it will be used to submit and sign additional paperwork until you receive a RaiderNet account.
GI Bill® Education Programs
The category of benefits you may receive will depend upon when you served, your length of service, and other factors. You must be admitted to the college in a degree or certificate-seeking program to receive benefits.
Assistance including tuition and fees, books, supplies, and housing stipend depends upon your Letter of Eligibility rating from the VA.
To see an overview of available education programs, visit the GI Bill® website.
To ask VA a question, log on to e-benefits, see frequently asked questions, or explore the VA GI Bill® benefits in more detail, visit the Veteran's Education Website.
Steps for Receiving Benefits for Service Members, Veterans & their Dependents
Submit an online VA education application:

If you are a Veteran or service member choose one of the following GI Bill® applications at www.va.gov

VA Form 22-1990 (veterans applying for education benefits, chapters 30, 33, and 1606)
VA Form 22-1990E (dependents applying for transferred benefits, chapter 33)
VA Form 22-5490 (dependents applying for dependent educational assistance, chapter 35)
VA Form 22-1995 (change of place/programs, chapter 30, 33, 1606, and 1607)
VA Form 22-1990N (candidates for the National Call to Service program)
VA Form 22-5495 (change of place/program, chapter 35)


Provide a copy of your Certificate of Eligibility (COE) from the VA (may take 2 months to receive COE in the mail after electronic submission).
For Chapters 30, 31, 33 & 35, provide a copy of yours' or your sponsors' DD 214 (Copy 4 – which includes the type of discharge at the bottom).
Provide a copy of your class schedule. VA only approves and pays for credits that are in your Program of Study and listed under your declared major.
If you are a chapter 1606 or 30 Service Member or Veteran, you must verify your attendance at the end of each month by calling 1-877-823-2378 or on the Web Automated Verification of Enrollment (WAVE) website.
Additional Financial Assistance to Supplement the GI Bill®
© Roane State Community College
Roane State Community College does not discriminate on the basis of race, color, religion, creed, ethnicity or national origin, sex, disability, age, status as protected veteran or any other class protected by Federal or State laws and regulation and by Tennessee board of Regents policies with respect to employment, programs, and activities.​​​​​​​ View full non-discrimination policy.