March 30, 2023
Roane State has been granted approval by the State Building Commission for the early design phase of the college's new Knox Regional Health Science Education and Simulation Center in West Knoxville.
Representatives from the Tennessee Board of Regents (TBR), Roane State, TCAT Knoxville, and BarberMcMurry Architects (the architectural firm selected for the project) were present at the commission's meeting in Nashville on March 9 to share conceptual designs and provide an update on the progress.
Following the presentation, the commission approved the early design phase of the facility, which will replace Roane State's current Knox County Center for Health Sciences on Hayfield Road. The new center will be located in the 9500-block of Sherrill Boulevard, directly across from Parkwest Medical Center. Construction is now set to begin this summer.
"We estimate that one third of our area's healthcare workers have passed through the doors of Roane State at some point, whether by earning a certificate, an associate degree, or through continuing education programs with our workforce development office," RSCC President Chris Whaley said.
"Roane State is proud to serve the needs of East Tennessee in this way, but we can achieve even more," Whaley added. "By expanding our land-locked Knox County campus, we will have the resources to increase the number of students in our health science programs while providing a one-of-a-kind educational experience that prepares students for the real world."
Current Roane State programs to be housed in the new 130,000-square-foot center will include nursing, EMS, polysomnography, and respiratory therapy, with the college planning to add new programs such as cardiovascular technology, healthcare administration, and public health.
TCAT Knoxville's health science programs will also be offered under the same roof, including dental assisting, phlebotomy, and surgical technology.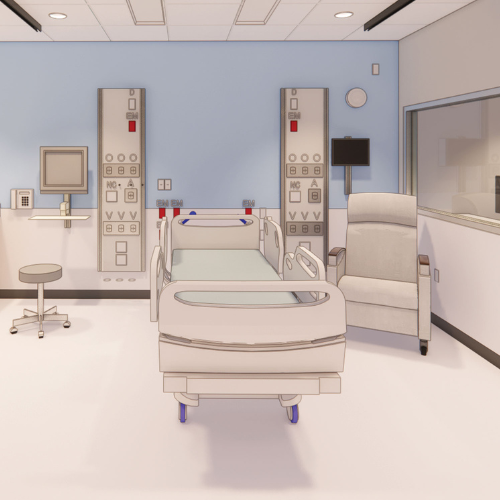 The first level of the new building will accommodate spaces shared by Roane State and TCAT Knoxville, such as student services, continuing education, adjunct faculty offices, and the 11,000-square-foot simulation center.
The simulation center will include an emergency department, operating room, simulation rooms with attached observation rooms, an ambulance bay, and more. The goal of these spaces is to immerse students in real-world scenarios that elevate their training and sharpen skills.
BarberMcMurry Architects described the design in a recent communication, stating that "the building's layout is oriented toward a courtyard that frames views of the lake, while allowing natural light to enter all program spaces. The courtyard will serve as gathering space for students and faculty, while also providing space for food trucks."
BarberMcMurry's statement went on to say that "this design process has been a true partnership and total team approach, with both Roane State and TCAT Knoxville participating from the beginning of design. Working together, they will be able to meet area healthcare providers' short- and long-term workforce needs."
Roane State and TCAT Knoxville hope to break ground on the new facility soon. The project's preliminary timeline has the Knox Regional Health Science and Simulation Center set to open for students in 2025.
Project background
Governor Bill Lee's 2022-23 budget included $67,500,000 in state funding for the Knox Regional Health Science and Simulation Center.
The total estimated dollar amount for the project is $75,000,000, which includes previous funding of $1,000,000 appropriated in fiscal year 2021-22 for the preliminary design phase.
Roane State needs at least $7,500,000 in private philanthropy to complete the project and sustain funding for the students who will attend. The college's non-profit Roane State Foundation is kicking off a capital fundraising campaign to meet that goal.
Most recently, Covenant Health was recognized for its record-breaking gift of land across from Parkwest Medical Center where the new facility will be built. The 10-acre parcel, located at 9575 Sherill Boulevard in West Knoxville, is the largest single gift in Roane State history.
Additional details on the fundraising efforts are forthcoming from Roane State Foundation.
BarberMcMurry Architects, LLC, was approved as the designer on the project in July of 2021. The design consultant for the simulation center is Lavallee Brensinger Architects. The general contractor on the project is Johnson & Galyon, Inc.