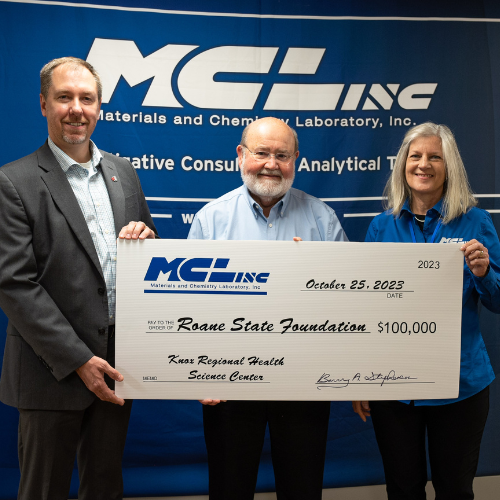 November 7, 2023
Materials and Chemistry Laboratory, Inc. (MCLinc) has donated $100,000 to support Roane State's new Knox Regional Health Science Education Center currently under construction in West Knoxville.
The 130,000-square-foot center will be located at 9575 Sherrill Boulevard. Once complete, the facility will replace Roane State's existing Knox County Center for Health Sciences on Hayfield Road. The Tennessee College of Applied Technology (TCAT) Knoxville will also move its health science programs into the new facility.
The new center is expected to educate more than 8,000 students each year in a variety of healthcare roles. Officials from Roane State and TCAT Knoxville celebrated the facility's groundbreaking over the summer.
Current Roane State programs to be offered at the new campus include nursing, EMS, polysomnography, and respiratory therapy, with the college planning to add new programs such as cardiovascular technology, healthcare administration, and public health.
The main feature of the facility will be a large, multi-purpose simulation center with spaces built to replicate a variety of healthcare training settings. In each of these settings, live-actor and simulated scenarios will prepare students for real-world situations as they work in teams to learn how to provide quality patient care.
"MCLinc is proud to be a part of this regional partnership focused on answering the need for more training capacity in medical support fields," said Barry Stephenson, MCLinc's president and CEO. "This project brings together the skills and infrastructure needed to deliver a successful program in a timely way."
The total estimated budget for the project is $75 million, with the State of Tennessee contributing $67.5 million to the effort. Roane State Foundation is leading a fundraising campaign to provide the remaining $7.5 million needed to complete the project.
"It is our hope that MCLinc's support of the program will encourage other businesses and individuals to contribute their support," Stephenson added.
Roane State Foundation assembled a campaign cabinet this past spring to help with the fundraising efforts. Stephenson, a long-time Roane State supporter, was one of the first to accept the invitation to join that group.
"This is the largest capital project in Roane State history and we are so thankful for partners like Barry Stephenson who are at the forefront of communicating how this facility will serve our students and our communities," said Roane State Foundation Executive Director Scott Niermann. "As we continue the major gifts stage of campaign fundraising, we are meeting with area leaders, philanthropists and friends of Roane State to share the impact of this project and how they can help us make a difference."
The project's preliminary timeline has the Knox Regional Health Science Education Center set to open for students in the fall of 2025.
To learn more about how to get involved with the fundraising campaign, or to make a direct contribution, visit roanestate.edu/donate and select the Knox Regional Health Science Education and Simulation Center link under "Capital Projects." Additional information is available at roanestate.edu/foundation or by calling Roane State Foundation at (865) 882-4507.