Early Childhood Education Program (AAS)
Overview
There are several options available at RSCC for students wishing to enter the field of early childhood education. Each option is designed as a stair-step pathway to the next level. Besides this A.A.S. degree program, a one-year technical certificate program is available. Students may also decide to pursue the CDA Credential. Prospective students should contact the early childhood faculty for information on various paths and options.
ECED Degree Program
Students in the two-year Early Childhood Education Degree Program will gain knowledge in areas such as child development, family and community involvement, and curriculum development. Graduates will be prepared to work in various early childhood settings and conduct themselves as members of the early childhood profession.
Option to Pursue the CDA Credential
Many students begin with four ECED courses in preparation to apply for the nationally awarded Child Development Associate (CDA) Credential. Students beginning with this option may receive additional help from the TECTA program regarding specific CDA requirements and deadlines.
CDA-Prep Course Requirements (offered fall and spring semesters)
TECTA Tuition Funding
Students may qualify for TECTA funding. TECTA, Tennessee Early Childhood Training Alliance, is a grant program that helps provide funding for people emloyed in a Department of Human Services (DHS) licensed child care facility. Students interested in applying for funding with TECTA should contact the office directly at 481-2034 to be advised on the most current grant guidelines and eligibility requirements.
Locations and Delivery Methods
All ECED courses are currently offered at the Oak Ridge campus. Additionally, ECED courses are offered in various delivery methods to accommodate the majority of students who are working adults. This includes evening classes, hybrid, and web.
Accreditation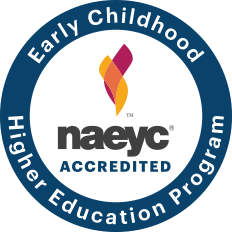 The Associate fo Applied Science (AAS) degree at Roane State Community College is accredited by the Commission on the Accreditation of Early Childhood Higher Education Programs of the National Association for the Education of Young Children (www.naeyc.org). The accreditation term runs from June 2021 through June 2028.
Get Started Today
Please contact us to discuss the best option to meet your needs:
Saundra L. Stiles
Click above for email address
(865) 354-3000 ext. 4844
Links
Faculty and Staff
Faculty and Staff
© Roane State Community College
Roane State Community College does not discriminate on the basis of race, color, religion, creed, ethnicity or national origin, sex, disability, age, status as protected veteran or any other class protected by Federal or State laws and regulation and by Tennessee board of Regents policies with respect to employment, programs, and activities.​​​​​​​ View full non-discrimination policy.