Roane State's Honors Program provides a unique course of study for the college's most promising students. Designed to promote student initiative and academic achievement, the program's most important criteria for success are the student's motivation and dedication to learning. The Honors Program serves learners who work hard, raise questions, and seek answers. Most services are provided at no cost to the student.
The Honors Contract: How the Program Works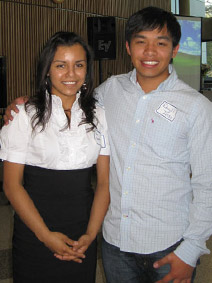 The Roane State Honors Program uses a contract method as the means for obtaining honors credit. The student works with his/her professor to develop a project which ventures beyond the regular content of a college-level course, providing a deeper level of learning. The project is registered online and then described on a contract form which should be completed and returned to an Honors Program Coordinator by mid-semester. The student may work on more than one project per semester, but only one project is allowed per course. For more information see the link titled "Deciding on an Honors Project" on the left hand side of this webpage.
Honors credit for the course is awarded if the project is completed to the professor's satisfaction and the student receives a grade of "B" or higher in the course. The number of honors credits earned is equivalent to the number of credit hours specified for each course. For example, if a student completes a project in a three credit hour course, that individual earns three honors credits toward his/her Honors Degree. It may take two to four weeks after the end of the semester before the official Honors Course designation appears on the student's transcript.
Benefits for Honors Program Members
The advantages of participation in the Honors Program include increased knowledge, working relationships with faculty, and an exceptional college experience.
Other benefits include:
Graduation with Honors
Members of the Honors Program may work toward one of two degree options:
Honors Associate: earn 12 semester hours of honors credit and maintain a 3.3 GPA
Honors Diploma: earn 18 semester hours of honors credit and maintain a 3.3 GPA
These two honors degree designations are one type of academic distinction that can be recorded on a student's transcript and diploma. There is only one other type of distinction: the Summa Cum Laude, Magna Cum Laude and Cum Laude designations. They are based on GPA alone.
Field Trips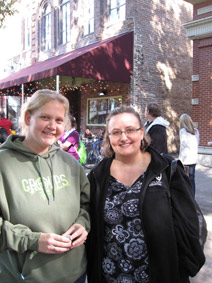 Each fall, the Honors Program sponsors a field trip to an educational or historical site. Previous visits have been to the Biltmore Estate, the High Museum of Art in Atlanta, The East Tennessee Historical Society, Historic Rugby, the McClung Historic Museum and the Knoxville Museum of Art. Field trips provide a unique opportunity for students and faculty to become acquainted outside the classroom and are provided free of charge.
The Honors Forum and Banquet
Each spring, Honors Program students, their families, and representatives of the college are invited to a forum and banquet which showcases many of the quality projects completed during that academic year. At this event students receive recognition for their work, get acquainted with each other, and enjoy a complementary dinner. In order to experience all that the Honors Program has to offer, students are encouraged to present their projects at the forum.
Additions to a Resume or College Application
References to Honors Program activities can benefit a student's resume or application in several ways. First, participation in the Honors Program itself should be mentioned under "Activities" or "Memberships." Secondly, individual projects should be described under a "Special Projects" or "Accomplishments" section. If these projects highlight student abilities in his/her area of professional interest, so much the better. Lastly, participation in the Honors Forum should be noted as an accomplishment.
Admission Procedures
The Honors Program maintains strict standards for admission and participation. Enrollment invitations are mailed at the beginning of each semester to students who meet the admission requirements. All students who wish to enter the program should complete an online enrollment form. Interested students who feel they meet the admission requirements but do not receive a letter may seek admission through an interview with one of the coordinators. Some Honors Program members are recent high school graduates while others are returning students, but all have a strong commitment to their college careers.
Admission Requirements
Students may apply to the Honors Program if they are a:
Freshman who has attained a 3.5 GPA in high school and/or scored 25 or higher on the ACT
Current RSCC student who has attained a 3.5 GPA with at least 12 college-level credits
Transfer student who has attained 3.5 GPA with at least 12 college-level credits from another accredited institution
Note: Some exceptions to these requirements are made based on a personal interview.
Requirements for Good Academic Standing
Students are expected to maintain a 3.3 GPA or higher to stay in the program. If the overall GPA drops below a 3.3, the student should concentrate on improving the GPA instead of doing honors work.
Next Steps:
Summary: What the Honors Program Can Do for You
Real Advantages

Develop working relationships with professors
Earn Honors recognition at graduation
Enhance research skills and creativity
Prepare for a chosen career or transfer program
Enjoy being a member of a small group within a larger college
Design innovative projects on cutting edge topics
Explore areas of professional and personal interest
Feel the pride of accomplishment!
Real Benefits
Personalized instruction
Engaged professors
Field trips
Membership aid for Phi Theta Kappa
Recognition at graduation
Increased access to scholarships
Social activities
Other Links