Advanced Pharmacy Technology
Overview
Application Update: The Advanced Pharmacy Technology program has reopened its application until filled.
The Roane State Advanced Pharmacy Technology Program is a 2 semester program preparing students to enter the pharmacy field as trained technicians. It is intended to provide comprehensive, quality training to students so they will be able to function in community and organized healthcare pharmacy settings. Upon completion of the certificate program students will be ready to obtain national certification by taking the Pharmacy Technician Certification Board (PTCB) examination.
The program has been enhanced with a top pharmacy software, PioneerRx. Students will experience a more hands-on learning experience as PioneerRx simulates the processes and workflow of modern pharmacies.
Employment Opportunities/Salary Ranges
According to the U.S. Department of Labor employment opportunities are expected to be good, especially for those with certification. Pharmacy technicians work in retail, hospital, mail-order, drug wholesale companies and long term care facilities. The median pay in 2012 was $29,320 per year or $14.10 per hour. Shift differentials may also be available in some settings for working evenings, weekends, or holidays. The job outlook for pharmacy technicians for the years 2012 through 2022 is expected to grow 20% fast than average. Individuals convicted of crimes other than minor traffic violations may be prohibited from receiving registration from the Tennessee Board of Pharmacy.
Location
The program is located at the Oak Ridge Branch Campus.
Students enter the program at the start of the fall semester each year and courses must be taken in sequence.
Pass and Placement Rate
The pass rate is 100% for 2020
The placement rate is 100% for 2020
The pass rate is 100% for 2021
The placement rate is 100% for 2021
The pass rate is 100% for 2022
The placement rate is 100% for 2022
PTCB (Pharmacy Technician Certification Board) Certification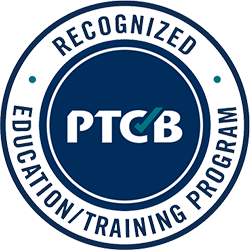 To achieve PTCB Certification, candidates must satisfy the following eligibility requirements:
High school diploma or equivalent educational diploma (e.g., a GED or foreign diploma).
Full disclosure of all criminal and State Board of Pharmacy registration or licensure actions.
Compliance with all applicable PTCB Certification policies.
Passing score on the Pharmacy Technician Certification Exam (PTCE).
For more information, please see the PTCB site.
Accreditation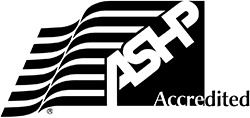 The Pharmacy Technician Program is accredited by the American Society of Health System Pharmacists(ASHP) 7272 Wisconsin Avenue, Bethesda, Maryland 20814; (301)657-3000; http://publications.tnsosfiles.com/rules/1140/1140.htm
Professional Organizations
Admission Requirements
Application Update: The Advanced Pharmacy Technology program has reopened its application until filled.
Applications Required for the Advanced Pharmacy Technology Program
RSCC Application Link - Steps 1 AND 2 are required for admission to the College and Allied Health Sciences programs.
Allied Health Sciences Application Information
Program Costs
Roane State Tuition & Fees
All tuition and fees are subject to change by the Tennessee Board of Regents.
* Program courses that are taken in an online format are subject to a distance education fee. A Specialized Allied Health Science Fee of $25 per credit hour will be applied to all Allied Health Science courses. See Tuition and Fees link above.
Books, Supplies and Additional Program Expenses
Visit the bookstore for book titles and prices.
Scrubs for clinical rotations $50
Lab coat for clinical rotations $25
Shoes $70
Calculator $25
Physical Exam (cost may vary) $150
Liability Insurance (2 semesters) $30
Books (approximate cost) $1,000
Pharmacy Technician Certification Board National exam $129
Name tag for directed practice $10
Criminal background check (if required): $80 (cost is estimated)
Total additional cost $1,569
Additionally, there may be requirements from the Tennessee Board of Pharmacy that could include, but may not be limited to, registration and an accompanying fee, criminal background checks, etc. Up-to-date information from the Tennessee Board of Pharmacy
Faculty & Staff
Marianna Mabry
Click above for email address
(865) 354-3000 ext. 4242
Director
Health Sciences Admission Advisor
Michael Burtch
(865) 354-3000, ext. 4705
hsnadmissions@roanestate.edu
© Roane State Community College
Roane State Community College does not discriminate on the basis of race, color, religion, creed, ethnicity or national origin, sex, disability, age, status as protected veteran or any other class protected by Federal or State laws and regulation and by Tennessee board of Regents policies with respect to employment, programs, and activities.​​​​​​​ View full non-discrimination policy.