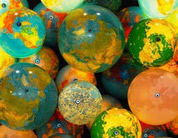 Nov 16-20, 2015 is International Education Week.
Join the U.S. Department of Education and the U.S. Department of State next week as we celebrate IEW 2015. This year's theme is "Advancing Access to Global Education Opportunities for All" and they have some great events planned.
Our mission is to empower our students, faculty, and staff, to experience the richness of other peoples and nations and to take advantage of global opportunities for individual growth. We also consider our mission to welcome international students and to encourage them to be part of our community. By internationalizing our campuses and by promoting global interaction, we offer our students the wisdom and skills to form part of and compete in the global market.
By building community awareness of global issues and problems, we ultimately strive to contribute to a better and more peaceful world.
Altered View: A story of how 10 days in Central America touched the lives of students from East Tennessee
Handbooks
Forms
Policies
Associations
© Roane State Community College
Roane State Community College is a TBR and AA/EEO employer and does not discriminate against students, employees, or applicants for admission or employment on the basis of race, color, religion, creed, national origin, sex, sexual orientation, gender identity/expression, disability, age, status as a protected veteran, genetic information, or any other legally protected class with respect to all employment, programs and activities sponsored by Roane State. View full non-discrimination policy.