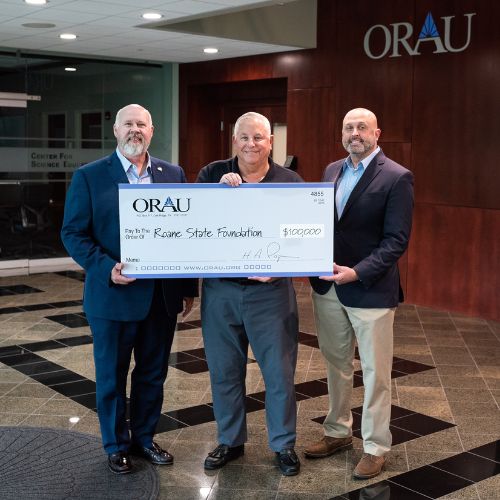 September 7, 2023
Oak Ridge Associated Universities (ORAU) has donated $100,000 to Roane State Foundation in support of the Knox Regional Health Science Education Center, a new Roane State campus being constructed in the heart of West Knoxville.
The 130,000-square-foot facility will be located at 9575 Sherrill Boulevard, across from Parkwest Medical Center, and will house health science programs offered by both Roane State and the Tennessee College of Applied Technology (TCAT) Knoxville.
Once open, the center will replace Roane State's current Knox County Center for Health Sciences and allow both colleges to significantly expand health science courses and programs.
"As part of ORAU's ongoing commitment to advancing national priorities in science, health, and education, we are honored to be a partner in bringing the new Knox Regional Health Science Education Center one step closer to reality," said ORAU President Andy Page. "This center will help prepare students to be a vital part of our future healthcare workforce, further strengthening the economy of East Tennessee."
Current Roane State programs to be housed in the new center include nursing, EMS, polysomnography, and respiratory therapy, with the college planning to add new programs such as cardiovascular technology, healthcare administration, and public health.
Additionally, the center will feature a large multi-purpose simulation center aimed at immersing students in real-world scenarios that elevate their training.
"This project will allow us to serve our students at the highest level so they can enter the healthcare workforce highly skilled, ready to save lives and enhance patient care," Roane State President Chris Whaley said. "ORAU's gift supports our mission of improving lives through higher education and building communities that truly thrive."
"We are tremendously grateful for this donation and value the ongoing partnership with ORAU," said Scott Niermann, executive director of Roane State Foundation. "Generous gifts of this level bring us closer to our goal of ensuring all students have access to an excellent health science education."
The total estimated dollar amount for the project is $75,000,000. Roane State needs at least $7,500,000 in private philanthropy to complete the project and sustain funding for the students who will attend.
"As our fundraising campaign continues, we welcome the support of citizens across the region who value a healthy, thriving community," Niermann added.
Roane State broke ground on the project on August 1, 2023. Construction is set to begin soon. The preliminary timeline has the center set to open in the fall of 2025. For more information, visit roanestate.edu and look for the latest project updates in the news section.
Interested supporters can learn more about getting involved with the fundraising effort or making a contribution at roanestate.edu/foundation.

Roane State Foundation is a nonprofit 501(c)3 corporation that seeks to enhance community awareness of the college, to secure private contributions and bequests, and to manage monies or properties given to the Foundation, including approximately $23 million in endowments and other investments. Roane State Foundation supports the college with capital projects, equipment, educational programs, and scholarships. For more information or to make a gift to support Roane State students, visit roanestate.edu/foundation, email Foundationdept@roanestate.edu, or call (865) 882-4507.