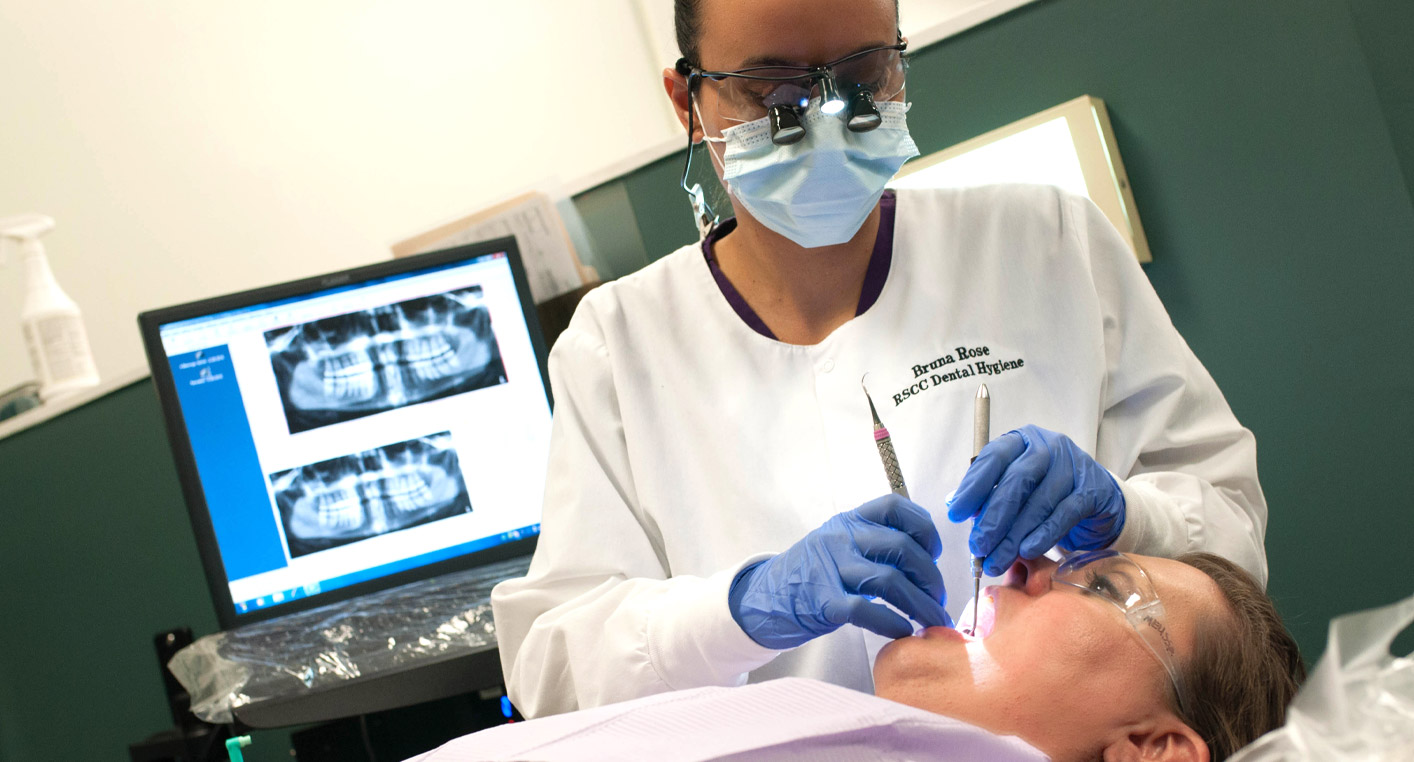 Students who are interested in applying for the Dental Hygiene program will want to attend a group advising session on October 19th, 2016 at 5:30 PM in the City Room on the Oak Ridge Campus.
Overview
The Roane State Associate of Applied Science Degree Program in Dental Hygiene consists of five semesters of full-time study which includes supervised clinical coursework in the Oak Ridge Branch Campus dental hygiene clinic. Students are required to treat patients in a variance of difficulty and must schedule their own patients.
Dental hygienist provides oral health care services that help prevent gum and bone disease and dental decay as well as teach patients how to improve their oral hygiene. Hygienists examine patients' teeth and gums; record the presence of diseases or abnormalities. They remove calculus, stains, and plaque from teeth; take and develop x-rays; apply cavity preventive agents such as fluorides and pit and fissure sealants. In Tennessee and many other states, hygienists administer local anesthetics and anesthetic gas; place and carve filling materials, temporary fillings and periodontal dressings; remove sutures; and smooth and polish metal restorations. Dental hygienists also help patients develop and maintain good oral health. For example, they may explain the relationship between diet and oral health, inform patients how to select toothbrushes, and show patients how to brush and floss their teeth. Dental hygienists use hand and ultrasonic instruments to clean teeth, x-ray machines to take dental radiographs, prepare syringes with needles to administer local anesthetics, and take impressions of patients' teeth.
Dental hygienist must be licensed by the State in which they practice. To qualify for licensure, a candidate must graduate from an accredited dental hygiene school and pass both written and clinical examination.
Dental hygienists should work well with others and must have good manual dexterity, due to working with dental instruments in patient's mouth. Be willing to refine their verbal, non-verbal and written skills to successfully communicate with patients of all ages and cultural backgrounds.
Work Settings
Most dental hygienists work in private dental offices. Some work in public health agencies (including primary schools), hospitals, clinics, nursing homes and pharmaceutical and dental sales companies. More than half of all dental hygienists work part time less than 35 hours per week.
Salary and Job Outlook
The Tennessee Department of Labor, 2014 Occupational Employment and Wages, list mean annual wage of dental hygienists as $64,380.00. Earnings are affects by geographic location, employment setting, and education and experience. Dental Hygienists who work in private dental offices may be paid hourly, daily, salary, or commission basis. Employment demand will be stimulated by population growth, and greater retention of natural teeth by the larger number of middle-aged and elderly people.
Class Location
Dental Hygiene Program courses are held Monday through Friday at the Oak Ridge Branch Campus.
Accreditation
The Dental Hygiene Program is accredited by the Commission on Dental Accreditation (CODA) 211 E. Chicago Avenue, Suite 1900, Chicago, IL 60611-2678; (312) 440-4653; ada.org.
Program Costs
Roane State Tuition & Fees
All tuition and fees are subject to change by the Tennessee Board of Regents.
* Program courses that are taken in an online format are subject to a distance education fee. A Specialized Allied Health Science Fee of $25 per credit hour will be applied to all Allied Health Science courses. See Tuition and Fees link above.
Books, Supplies and Additional Program Expenses
(Visit www.roanestate.edu/bookstore for book titles and prices)
Instruments: Approximately $2552 (first year), $200 (second year)
Uniforms: Approximately $220 (first year)
Students American Dental Hygiene Association Dues: $ 65 per year
Radiation Badge: $96
National Board Examination (NBDHE): $400
Southern Regional Examination (SRTA): $950, plus site fees dependent on host institution
See the current catalog for out-of-state tuition and fees and residency requirement rules.