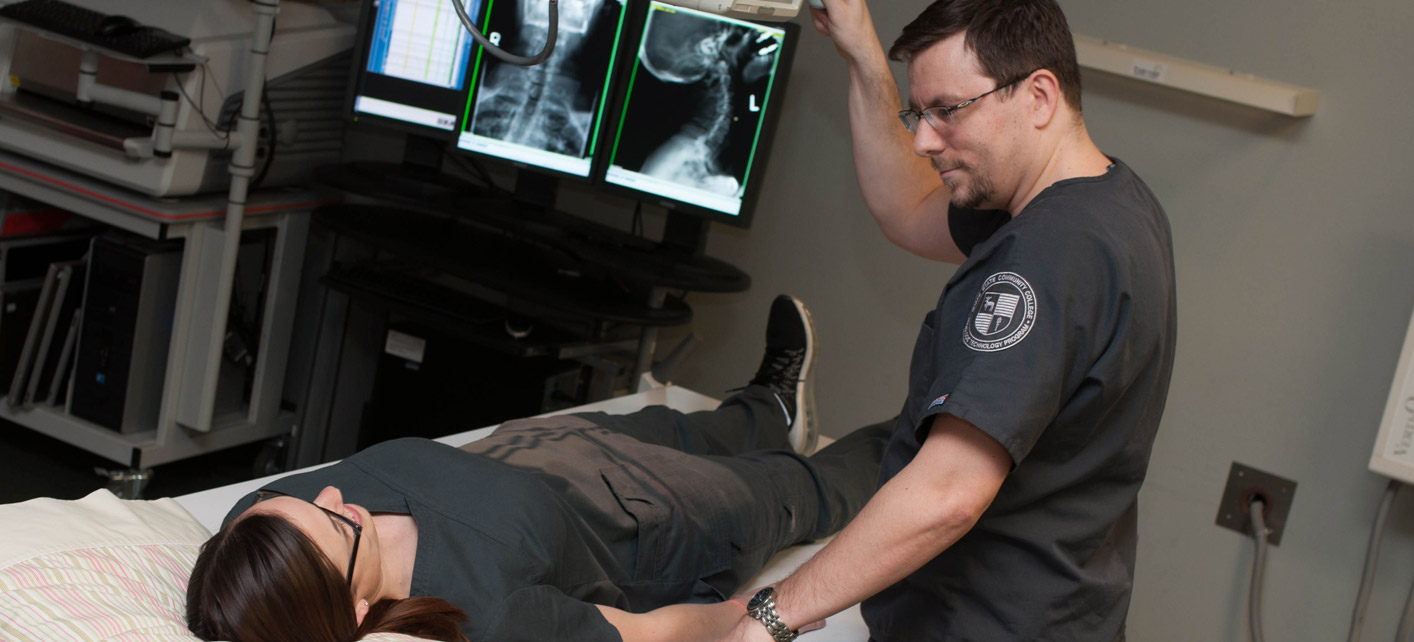 Overview
The Roane State Associate of Applied Science Degree Program in Radiologic Technology (A.A.S. in RDT) consists of five semesters of full-time study which includes supervised clinical coursework in a diagnostic radiology department. There are no evening or weekend didactic classes. However, in the second year of the program, students are required to complete four weeks of evening shift clinicals. The program is affiliated with 18 clinical sites. Students may be assigned to various clinical sites during their 22 months of clinical coursework.
The radiographer is a healthcare professional that performs radiographic procedures that provide information to assist in the diagnosis and treatment of the patient. The radiographer also assumes professional responsibility for minimizing the public's exposure to ionizing radiation, thereby observing the ASRT Code of Ethics.
As the population grows and ages, it will increase the demand for imaging science professionals. At this time the number of applications for acceptance into radiologic technology programs greatly exceeds available space in these programs and is therefore very competitive.
Class Location
Radiologic Technology Program didactic courses are held between 7:30 a.m. and 5:00 p.m. Monday through Friday at the Oak Ridge Branch Campus.
Accreditation
The Radiologic Technology Program is accredited by the Joint Review Committee on Education in Radiologic Technology (JRCERT) 20 N. Wacker Drive, Suite 2850, Chicago, IL 60606-3182; (312) 704-5300; www.jrcert.org.
Program Costs
Roane State Tuition & Fees
All tuition and fees are subject to change by the Tennessee Board of Regents.
* Program courses that are taken in an online format are subject to a distance education fee. A Specialized Allied Health Science Fee of $25 per credit hour will be applied to all Allied Health Science courses. See Tuition and Fees link above.
Books, Supplies and Additional Program Expenses
(Visit www.roanestate.edu/bookstore for book titles and prices)
Textbooks average approximately $450 a semester
Gray uniform and black leather shoes.
Clinical Liability Insurance: $15 per year.
Clinical costs: students assume the cost of transportation, parking, meals and medical coverage for injury or illness Physical exam and immunizations (mandatory prior to 1st day of clinical rotation)
Clinical supplies: $50-75
Hepatitis B vaccination (highly recommended and required by some affiliates).
TB skin test every year.
Background Check and Drug Screen: $100
Private health insurance (Highly recommended).
See the current catalog for out-of-state tuition and fees and residency requirement rules.
© Roane State Community College
Roane State Community College is a TBR and AA/EEO employer and does not discriminate against students, employees, or applicants for admission or employment on the basis of race, color, religion, creed, national origin, sex, sexual orientation, gender identity/expression, disability, age, status as a protected veteran, genetic information, or any other legally protected class with respect to all employment, programs and activities sponsored by Roane State. View full non-discrimination policy.